Glock-18 | Blue Fissure
The Arms Deal 3 Collection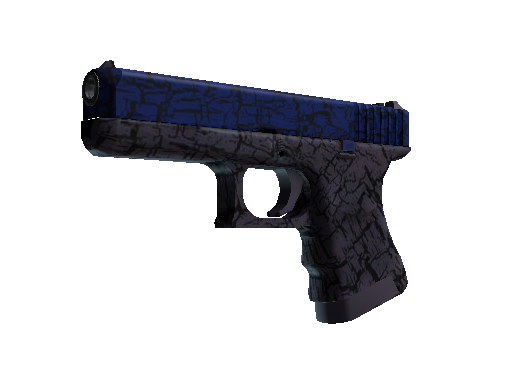 | Condition | Price |
| --- | --- |
| Factory New | $21.81 |
| Minimal Wear | $2.5 |
| Field-Tested | $1.98 |
| Well-Worn | $2.24 |
| Battle-Scarred | $1.96 |
| StatTrak Factory New | $91.17 |
| StatTrak Minimal Wear | $10.9 |
| StatTrak Field-Tested | $5.13 |
| StatTrak Well-Worn | $5.7 |
| StatTrak Battle-Scarred | $5.06 |
Description
It has been painted using a hydrographic in a craquelure pattern.
The 'Glock-18 | Blue Fissure' is a classic and cherished skin in the Counter-Strike world. Released in the 'Arms Deal 2' collection, it has maintained high popularity levels among CS:GO and CS2 players. Known for its blue, jagged pattern spread across the body of the gun, it represents a perfect blend of style and ruggedness. The intense blue color symbolizes depth and stability, two key attributes for any serious player. It's priced moderately on the marketplace, and it's frequently traded among users, making it a valuable asset for traders as well. During the 2014 CS:GO tournament, 'Blue Fissure' was used by several top-tier players, further increasing its popularity and demand.
It was added to Counter-Strike: Global Offensive on 12 February 2014 as part of the The Arms Deal 3 Collection with the The Arms Deal 3 update. This skin was created by Valve.
Glock-18 | Blue Fissure skin float value ranges from 0.06 to 0.58 which makes it available in the following wear conditions: Factory New, Minimal Wear, Field-Tested, Well-Worn, Battle-Scarred.
Glock-18 | Blue Fissure finish style is Hydrographic.
Glock-18 | Blue Fissure is a fairly liquid item. It should be easy to sell or exchange it. Traders rates this skin at 4.22/5.0.
Buy on CS.TRADE
Buy or trade for Glock-18 | Blue Fissure skins listed below on CS.TRADE trade bot.