Galil AR | Vandal
The Operation Broken Fang Collection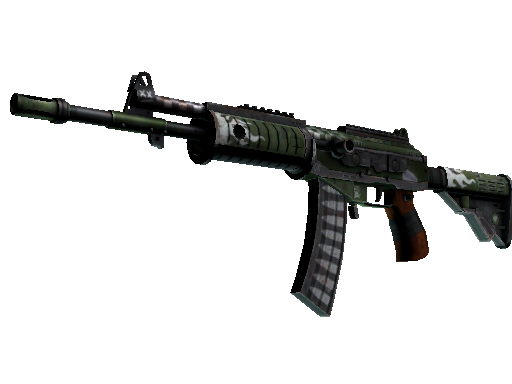 | Condition | Price |
| --- | --- |
| Factory New | $1.39 |
| Minimal Wear | $0.7 |
| Field-Tested | $0.54 |
| Well-Worn | $0.44 |
| Battle-Scarred | $0.44 |
| StatTrak Factory New | $4.33 |
| StatTrak Minimal Wear | $1.34 |
| StatTrak Field-Tested | $0.61 |
| StatTrak Well-Worn | $0.58 |
| StatTrak Battle-Scarred | $0.55 |
Description
Its green base coat has been covered with scattered white drawings.
The 'Galil AR | Vandal' skin is the perfect choice if you want your Galil AR weapon to stand out from the crowd. The skin showcases a bold and rebellious design, embodying the spirit of a vandal. Despite its somewhat controversial theme, this skin is well-liked by players and traders for its unconventional look. Its market price is generally stable, but may increase due to sudden spikes in demand. Using the Vandal skin on your Galil AR weapon can help to express your individuality and make a statement in the game.
It was added to Counter-Strike: Global Offensive on 3 December 2020 as part of the The Operation Broken Fang Collection with the Operation Broken Fang update.View Skin Workshop Submission
Galil AR | Vandal skin float value ranges from 0.00 to 1.00 which makes it available in the following wear conditions: Factory New, Minimal Wear, Field-Tested, Well-Worn, Battle-Scarred.
Galil AR | Vandal finish style is Gunsmith with finish catalog equal to 981. It's unique flavor text is: 'Each drawing tells a story, some more memorable than others'.
Galil AR | Vandal is a fairly liquid item. It should be easy to sell or exchange it. Traders rates this skin at 4.01/5.0.
Buy on CS.TRADE
Buy or trade for Galil AR | Vandal skins listed below on CS.TRADE trade bot.