Galil AR | Signal
The Danger Zone Collection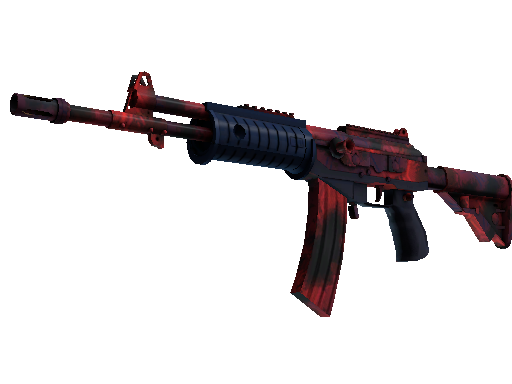 | Condition | Price |
| --- | --- |
| Factory New | $2.16 |
| Minimal Wear | $1.13 |
| Field-Tested | $0.55 |
| Well-Worn | $0.67 |
| Battle-Scarred | $0.56 |
| StatTrak Factory New | $4.32 |
| StatTrak Minimal Wear | $2.56 |
| StatTrak Field-Tested | $1.54 |
| StatTrak Well-Worn | $1.84 |
| StatTrak Battle-Scarred | $1.57 |
Description
A hydrographic pattern of red hexagons has been applied over a dark blue base.
The 'Galil AR | Signal' is a staple choice for CS:GO players looking for an affordable yet effective weapon skin. Its futuristic design combined with bright neon blue accents make it a standout choice in any in-game scenario. The pattern utilizes a blend of electronic-inspired design mixed with modern tactical elements. Known for its reliability in gameplay, the Galil AR finds a balance between power and control. 'Galil AR | Signal' frequently appears in different online trading markets, with price fluctuations dependent on factors such as condition, market trends, and seller's needs. This adds a dimension of financial strategy to acquiring the skin.
It was added to Counter-Strike: Global Offensive on 6 December 2018 as part of the The Danger Zone Collection with the Welcome to the Danger Zone update.View Skin Workshop Submission
Galil AR | Signal skin float value ranges from 0.00 to 0.50 which makes it available in the following wear conditions: Factory New, Minimal Wear, Field-Tested, Well-Worn, Battle-Scarred.
Galil AR | Signal finish style is Hydrographic with finish catalog equal to 807. It's unique flavor text is: 'Information is never free'.
Galil AR | Signal is a fairly liquid item. It should be easy to sell or exchange it. Traders rates this skin at 4.02/5.0.
Buy on CS.TRADE
Buy or trade for Galil AR | Signal skins listed below on CS.TRADE trade bot.