Galil AR | Orange DDPAT
The eSports 2013 Collection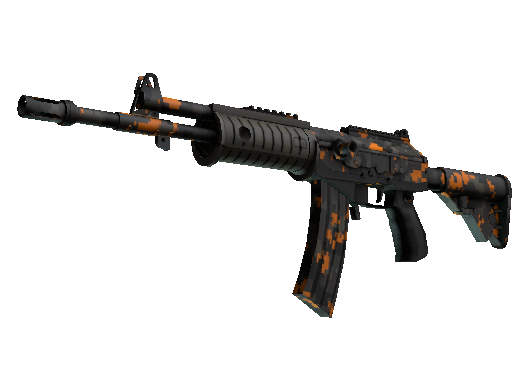 | Condition | Price |
| --- | --- |
| Factory New | $60.19 |
| Minimal Wear | $24.75 |
| Field-Tested | $17.52 |
| Well-Worn | $17.95 |
| Battle-Scarred | $17.7 |
| StatTrak Factory New | $109.85 |
| StatTrak Minimal Wear | $41.31 |
| StatTrak Field-Tested | $26.54 |
| StatTrak Well-Worn | $25.04 |
| StatTrak Battle-Scarred | $26.15 |
Description
It has been painted using a Digital Disruptive Pattern (DDPAT) hydrographic.
The 'Galil AR | Orange DDPAT' is a balance between style and functionality for the modern CS:GO player. The DDPAT (Digital Disruptive Pattern) design, combined with vibrant orange hues, offers an eye-catching skin which doesn't compromise on the skin's tactical look. Its distinctive design and color scheme have made it popular among players, leading to frequent transactions in the trading market and considerable variation in its price.
It was added to Counter-Strike: Global Offensive on 14 August 2013 as part of the The eSports 2013 Collection with the The Arms Deal update. This skin was created by Valve.
Galil AR | Orange DDPAT skin float value ranges from 0.06 to 0.80 which makes it available in the following wear conditions: Factory New, Minimal Wear, Field-Tested, Well-Worn, Battle-Scarred.
Galil AR | Orange DDPAT finish style is Hydrographic with finish catalog equal to 83. It's unique flavor text is: 'By the time you're close enough to notice the pixels it's already too late'.
Galil AR | Orange DDPAT is an item of average liquidity. It may take some time to sell or trade it. Traders rates this skin at 3.60/5.0.
Buy on CS.TRADE
Buy or trade for Galil AR | Orange DDPAT skins listed below on CS.TRADE trade bot.