Galil AR | Firefight
The Chroma 3 Collection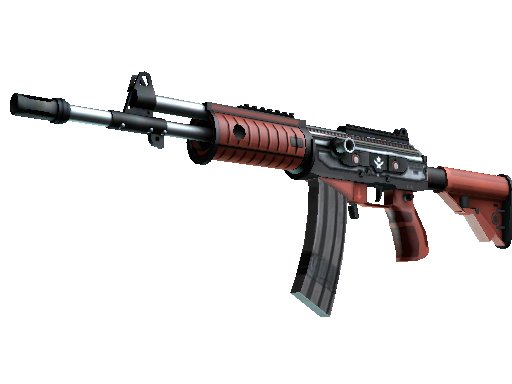 | Condition | Price |
| --- | --- |
| Factory New | $2.2 |
| Minimal Wear | $0.97 |
| Field-Tested | $0.46 |
| Well-Worn | $0.41 |
| Battle-Scarred | $0.41 |
| StatTrak Factory New | $7.63 |
| StatTrak Minimal Wear | $2.38 |
| StatTrak Field-Tested | $1.08 |
| StatTrak Well-Worn | $0.77 |
| StatTrak Battle-Scarred | $0.81 |
Description
It has been given crimson accents and a hand painted icon.
The 'Galil AR | Firefight' skin is a representation of a player's fiery determination to overcome enemies on the battlefield. The skin is designed with flames and a deep orange hue to portray the heat of battle. This skin resonates with players who prefer a more intense and passionate aesthetic. As a sought-after skin in the CS:GO trading market, its prices fluctuate considerably. Its popularity among players and traders alike makes it an exciting addition to any player's inventory.
It was added to Counter-Strike: Global Offensive on 28 April 2016 as part of the The Chroma 3 Collection with the Trichromacy update.View Skin Workshop Submission
Galil AR | Firefight skin float value ranges from 0.00 to 1.00 which makes it available in the following wear conditions: Factory New, Minimal Wear, Field-Tested, Well-Worn, Battle-Scarred.
Galil AR | Firefight finish style is Gunsmith with finish catalog equal to 546. It's unique flavor text is: 'Booth had this weapon commissioned for Valeria in an attempt to smooth things over with the Phoenix'.
Galil AR | Firefight is a fairly liquid item. It should be easy to sell or exchange it. Traders rates this skin at 4.02/5.0.
Buy on CS.TRADE
Buy or trade for Galil AR | Firefight skins listed below on CS.TRADE trade bot.