Galil AR | Dusk Ruins
The Ancient Collection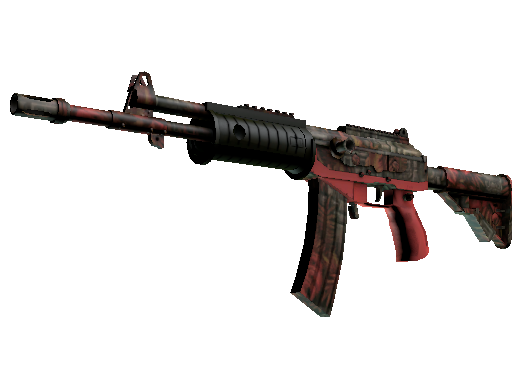 | Condition | Price |
| --- | --- |
| Factory New | $17.99 |
| Minimal Wear | $16.17 |
| Field-Tested | $14.41 |
| Well-Worn | $11.8 |
| Battle-Scarred | $11.71 |
| Souvenir Factory New | $7.13 |
| Souvenir Minimal Wear | $3.69 |
| Souvenir Field-Tested | $1.22 |
| Souvenir Well-Worn | $1.57 |
| Souvenir Battle-Scarred | $1.12 |
Description
Ancient gods are obscured in the background of this foliage-adorned pattern.
The 'Galil AR | Dusk Ruins' is a skin known for its intricate tribal designs over a dark, shadowy base. Debuting in the 'Danger Zone' case in 2018, this skin has a noticeable presence in CS:GO and CS2 alike. Each skin has a unique finish, which enhances its authenticity and its appeal among players and traders. The 'Dusk Ruins' is often used by players who value aesthetic detail in their gameplay. Even though it doesn't have a historical connection to a specific team or tournament, the 'Galil AR | Dusk Ruins' is still a favorite among professional players for its unique design and is used regularly in professional matches.
It was added to Counter-Strike: Global Offensive on 3 December 2020 as part of the The Ancient Collection with the Operation Broken Fang update.
Galil AR | Dusk Ruins skin float value ranges from 0.00 to 0.60 which makes it available in the following wear conditions: Factory New, Minimal Wear, Field-Tested, Well-Worn, Battle-Scarred.
Galil AR | Dusk Ruins finish style is Hydrographic with finish catalog equal to 1032. It's unique flavor text is: '"Eyes up everyone—we're being watched..."'.
Galil AR | Dusk Ruins is a fairly liquid item. It should be easy to sell or exchange it. Traders rates this skin at 4.18/5.0.
Buy on CS.TRADE
Buy or trade for Galil AR | Dusk Ruins skins listed below on CS.TRADE trade bot.