Galil AR | Cerberus
The Cache Collection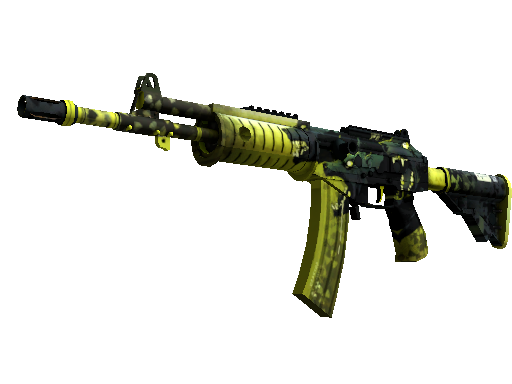 | Condition | Price |
| --- | --- |
| Factory New | $100.63 |
| Minimal Wear | $56.58 |
| Field-Tested | $22.52 |
| Well-Worn | $15.69 |
| Battle-Scarred | $12.69 |
| Souvenir Factory New | $364.13 |
| Souvenir Minimal Wear | $117.18 |
| Souvenir Field-Tested | $44 |
| Souvenir Well-Worn | $33.12 |
| Souvenir Battle-Scarred | $25.26 |
Description
It has been custom painted with a depiction of Cerberus, the mythical three headed dog that guards the underworld.
The striking 'Galil AR | Cerberus' skin is named after the three-headed dog of Greek mythology. The skin features a detailed illustration of Cerberus, along with stylized Greek patterns, giving it a unique and artistic appearance. This skin has a higher price in the market compared to the other Galil AR skins, making it a valuable item for traders. Players who equip their Galil AR weapon with the Cerberus skin can enjoy a visually appealing gaming experience, especially when playing on maps with a historical or mythical theme.
It was added to Counter-Strike: Global Offensive on 8 August 2014 as part of the The Cache Collection with the Cologne 2014 update. This skin was created by Valve.
Galil AR | Cerberus skin float value ranges from 0.00 to 0.90 which makes it available in the following wear conditions: Factory New, Minimal Wear, Field-Tested, Well-Worn, Battle-Scarred.
Galil AR | Cerberus finish style is Custom Paint Job.
Galil AR | Cerberus is a fairly liquid item. It should be easy to sell or exchange it. Traders rates this skin at 4.91/5.0.
Buy on CS.TRADE
Buy or trade for Galil AR | Cerberus skins listed below on CS.TRADE trade bot.