Galil AR | Black Sand
The Glove Collection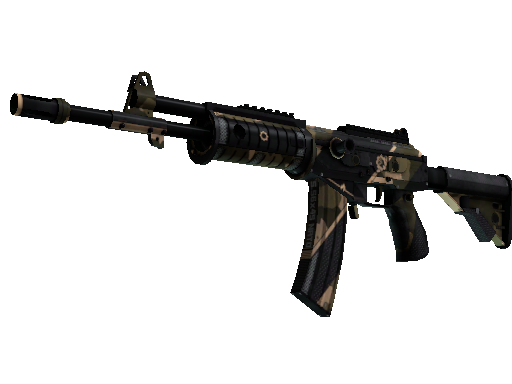 | Condition | Price |
| --- | --- |
| Factory New | $0.64 |
| Minimal Wear | $0.14 |
| Field-Tested | $0.12 |
| Well-Worn | $0.1 |
| Battle-Scarred | $0.1 |
| StatTrak Factory New | $3.49 |
| StatTrak Minimal Wear | $0.8 |
| StatTrak Field-Tested | $0.37 |
| StatTrak Well-Worn | $0.21 |
| StatTrak Battle-Scarred | $0.2 |
Description
It has been custom pained in black and camo.
With its sleek, minimalist design and dark aesthetic, the 'Galil AR | Black Sand' skin has a unique appeal to players of CS:GO and CS2. Launched as part of the 'Clutch Case' collection, it's loved for its stealthy, tactical look. Its market price is relatively stable, often with a slight upward trend, making it a solid investment for traders. The 'Black Sand' design adds an extra layer of depth, making every firefight feel more intense.
It was added to Counter-Strike: Global Offensive on 29 November 2016 as part of the The Glove Collection with the Brothers In Arms update.View Skin Workshop Submission
Galil AR | Black Sand skin float value ranges from 0.00 to 1.00 which makes it available in the following wear conditions: Factory New, Minimal Wear, Field-Tested, Well-Worn, Battle-Scarred.
Galil AR | Black Sand finish style is Custom Paint Job with finish catalog equal to 629. It's unique flavor text is: 'Mikah Baton is about to begin his campaign against the Coalition Taskforce'.
Galil AR | Black Sand is an item of average liquidity. It may take some time to sell or trade it. Traders rates this skin at 3.01/5.0.
Buy on CS.TRADE
Buy or trade for Galil AR | Black Sand skins listed below on CS.TRADE trade bot.