Galil AR | Aqua Terrace
The Rising Sun Collection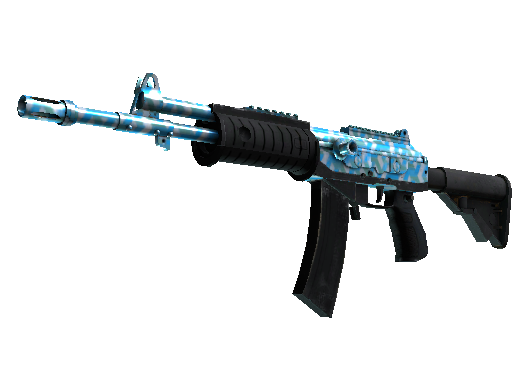 | Condition | Price |
| --- | --- |
| Factory New | $177.9 |
| Minimal Wear | $155.94 |
| Field-Tested | $150.9 |
| Well-Worn | $4.63 |
| Battle-Scarred | $93.04 |
Description
It has been painted with a geometric motif in metallic paints.
The 'Galil AR | Aqua Terrace' skin, with its refreshing oceanic color palette and unique pattern, offers a striking contrast in the intense battlefields of CS:GO and CS2. The skin, released in the 'Shadow' case in 2015, is highly sought after for its vibrant design that mimics an underwater terraced city. The 'Aqua Terrace' can be found in various conditions, and each condition has a different sheen and texture, making every skin one-of-a-kind. While the skin hasn't been associated with a specific player or tournament, it holds a noticeable place in the community due to its unique and refreshing look. The market price of the 'Aqua Terrace' increases with the skin's condition, making it a desirable piece for trading and collecting.
It was added to Counter-Strike: Global Offensive on 26 May 2015 as part of the The Rising Sun Collection with the Operation Bloodhound update. This skin was created by Valve.
Galil AR | Aqua Terrace skin float value ranges from 0.00 to 0.70 which makes it available in the following wear conditions: Factory New, Minimal Wear, Field-Tested, Well-Worn, Battle-Scarred.
Galil AR | Aqua Terrace finish style is Anodized Multicolored with finish catalog equal to 460. It's unique flavor text is: 'Serenity now...'.
Galil AR | Aqua Terrace is a fairly liquid item. It should be easy to sell or exchange it. Traders rates this skin at 4.90/5.0.
Buy on CS.TRADE
Buy or trade for Galil AR | Aqua Terrace skins listed below on CS.TRADE trade bot.