G3SG1 | Ventilator
The Gamma 2 Collection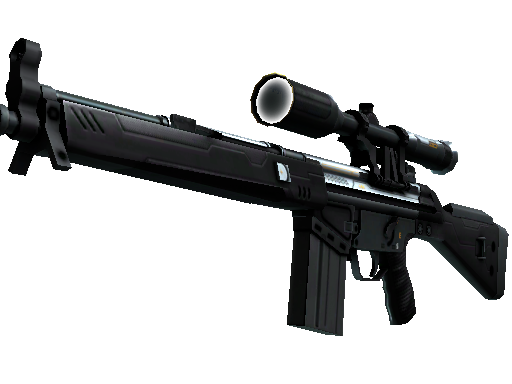 | Condition | Price |
| --- | --- |
| Factory New | $0.31 |
| Minimal Wear | $0.11 |
| Field-Tested | $0.11 |
| Well-Worn | $0.1 |
| StatTrak Factory New | $1.28 |
| StatTrak Minimal Wear | $0.44 |
| StatTrak Field-Tested | $0.13 |
| StatTrak Well-Worn | $0.17 |
Description
It has been given an elegant black and chrome paintjob and a custom rubber stock.
The G3SG1 | Ventilator is a sought-after skin due to its striking design and significant history. Marked by a heat-dissipating ventilator pattern, this skin offers players an industrial aesthetic. Released in the Gamma Collection, the skin has become highly popular in the trading market, with demand driven by both its distinctive design and high visibility in professional tournaments. It's typically seen in the hands of players favoring a tactical, aggressive approach. This popularity contributes to the skin's high market price.
It was added to Counter-Strike: Global Offensive on 19 August 2016 as part of the The Gamma 2 Collection with the Double Exposure update.View Skin Workshop Submission
G3SG1 | Ventilator skin float value ranges from 0.00 to 0.45 which makes it available in the following wear conditions: Factory New, Minimal Wear, Field-Tested, Well-Worn, Battle-Scarred.
G3SG1 | Ventilator finish style is Gunsmith with finish catalog equal to 606. It's unique flavor text is: 'Don't worry Naomi, I'll make Felix pay - Mikha Biton, Phoenix Sniper'.
G3SG1 | Ventilator is a fairly liquid item. It should be easy to sell or exchange it. Traders rates this skin at 4.00/5.0.
Buy on CS.TRADE
Buy or trade for G3SG1 | Ventilator skins listed below on CS.TRADE trade bot.