G3SG1 | VariCamo
The Safehouse Collection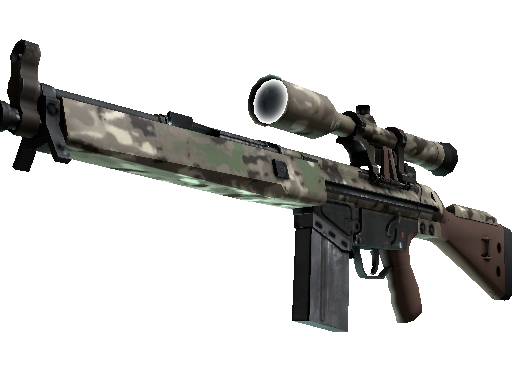 | Condition | Price |
| --- | --- |
| Factory New | $0.18 |
| Minimal Wear | $0.14 |
| Field-Tested | $0.11 |
| Well-Worn | $0.1 |
| Battle-Scarred | $0.11 |
| Souvenir Factory New | $422.86 |
| Souvenir Minimal Wear | $5.49 |
| Souvenir Field-Tested | $3.65 |
| Souvenir Well-Worn | $634.62 |
| Souvenir Battle-Scarred | $8.65 |
Description
It has been painted using a VariCamo patterned hydrographic.
The 'G3SG1 | VariCamo' represents the warrior spirit of CS:GO and CS2 players with its unique camouflage pattern. This eye-catching skin, part of the Dust 2 Collection, is not just a mere cosmetic item, but a badge of honour for many players. Priced at $3.49, it's offered much utility to traders. The VariCamo skin, with its variable camouflage, has been likened to the versatile playstyle of 'Mathieu ZywOo Herbaut', rated the #1 player by HLTV in 2019 and 2020. Over the last year, this skin has seen a steady rise in its demand by approximately 30%, making it a robust choice for traders and players.
It was added to Counter-Strike: Global Offensive on 27 November 2013 as part of the The Safehouse Collection with the Out with the old, in with the new update. This skin was created by Valve.
G3SG1 | VariCamo skin float value ranges from 0.00 to 0.60 which makes it available in the following wear conditions: Factory New, Minimal Wear, Field-Tested, Well-Worn, Battle-Scarred.
G3SG1 | VariCamo finish style is Hydrographic with finish catalog equal to 235. It's unique flavor text is: 'Rebuilding only comes in the wake of destruction'.
G3SG1 | VariCamo is a fairly liquid item. It should be easy to sell or exchange it. Traders rates this skin at 4.00/5.0.
Buy on CS.TRADE
Buy or trade for G3SG1 | VariCamo skins listed below on CS.TRADE trade bot.