G3SG1 | Scavenger
The Danger Zone Collection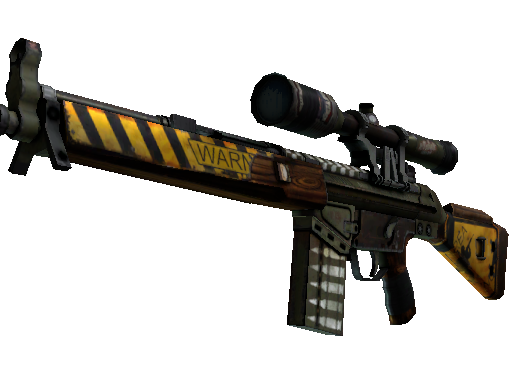 | Condition | Price |
| --- | --- |
| Factory New | $2.16 |
| Minimal Wear | $1.12 |
| Field-Tested | $0.63 |
| Well-Worn | $0.64 |
| Battle-Scarred | $0.57 |
| StatTrak Factory New | $4.22 |
| StatTrak Minimal Wear | $2.31 |
| StatTrak Field-Tested | $1.36 |
| StatTrak Well-Worn | $1.31 |
| StatTrak Battle-Scarred | $1.32 |
Description
Originally green, parts of the weapon have been replaced with street signs and a tomato can.
The 'G3SG1 | Scavenger' is an enticing skin in CS:GO, known for its rugged and robust design indicative of the battle-hardened player. This skin features earthy tones mixed with an aggressive pattern, reflecting the tenacity of a true scavenger. It has been a popular pick among players seeking a blend of aesthetics and gaming strategy, reinforcing the image of a survivor in the brutal combat of CS:GO. The skin was first seen in the 2019 collection, and its price has been steadily rising due to popular demand. The Scavenger has also been spotted in major CS:GO tournaments, adding to its allure among traders and players alike.
It was added to Counter-Strike: Global Offensive on 6 December 2018 as part of the The Danger Zone Collection with the Welcome to the Danger Zone update.View Skin Workshop Submission
G3SG1 | Scavenger skin float value ranges from 0.00 to 0.65 which makes it available in the following wear conditions: Factory New, Minimal Wear, Field-Tested, Well-Worn, Battle-Scarred.
G3SG1 | Scavenger finish style is Gunsmith with finish catalog equal to 806. It's unique flavor text is: 'Why run?'.
G3SG1 | Scavenger is a fairly liquid item. It should be easy to sell or exchange it. Traders rates this skin at 4.02/5.0.
Buy on CS.TRADE
Buy or trade for G3SG1 | Scavenger skins listed below on CS.TRADE trade bot.