G3SG1 | Murky
The Vanguard Collection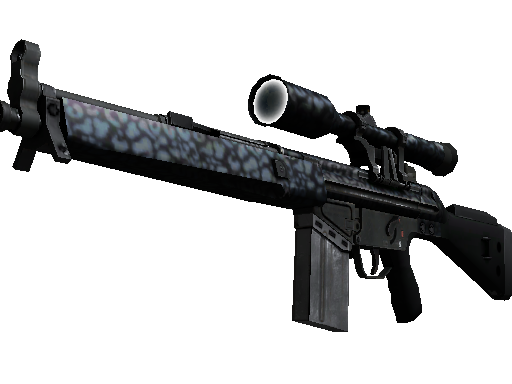 | Condition | Price |
| --- | --- |
| Factory New | $0.84 |
| Minimal Wear | $0.65 |
| Field-Tested | $0.54 |
| StatTrak Factory New | $3.18 |
| StatTrak Minimal Wear | $1.94 |
| StatTrak Field-Tested | $1.57 |
Description
It has been anodized then painted using a leopard-spot hydrographic.
The 'G3SG1 | Murky' is a renowned item in both CS:GO and CS2, boasting a unique distressed forest camo pattern that's evocative of murky woodland scenarios. Released on 18th September 2013, it can be obtained from the eSports 2013 Winter Case. As of now, 'G3SG1 | Murky' holds a median price of around 0.03 USD on the Steam Market, with Factory New versions reaching up to 0.12 USD. This makes it an affordable and popular choice among both traders and players alike. The 'G3SG1 | Murky' is often seen in gameplay during clutch situations, credited for its high accuracy and slow rate of fire, making it ideal for long-range combat.
It was added to Counter-Strike: Global Offensive on 11 November 2014 as part of the The Vanguard Collection with the Operation Vanguard update.View Skin Workshop Submission
G3SG1 | Murky skin float value ranges from 0.00 to 0.25 which makes it available in the following wear conditions: Factory New, Minimal Wear, Field-Tested.
G3SG1 | Murky finish style is Anodized Multicolored with finish catalog equal to 382. It's unique flavor text is: 'There is always some place darker you can go'.
G3SG1 | Murky is a fairly liquid item. It should be easy to sell or exchange it. Traders rates this skin at 4.01/5.0.
Buy on CS.TRADE
Buy or trade for G3SG1 | Murky skins listed below on CS.TRADE trade bot.