G3SG1 | Hunter
The Spectrum 2 Collection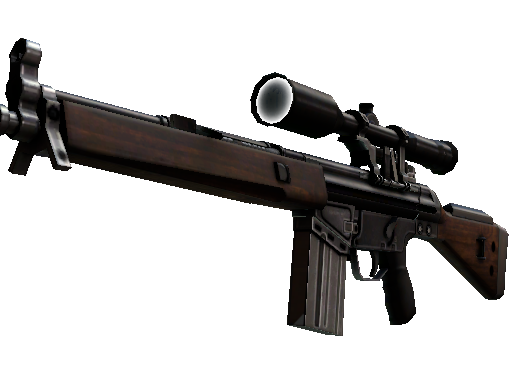 | Condition | Price |
| --- | --- |
| Factory New | $0.38 |
| Minimal Wear | $0.1 |
| Field-Tested | $0.07 |
| Well-Worn | $0.06 |
| Battle-Scarred | $0.06 |
| StatTrak Factory New | $1.38 |
| StatTrak Minimal Wear | $0.39 |
| StatTrak Field-Tested | $0.12 |
| StatTrak Well-Worn | $0.1 |
| StatTrak Battle-Scarred | $0.1 |
Description
The gun's black base has been covered with dark wood paneling.
The G3SG1 | Hunter is a weapon skin that signifies power and prestige in CS:GO and CS2. Released in the Operation Wildfire Collection, it sports a unique hunter camouflage pattern, blending shades of green and brown. The skin's rugged look has found favor among players and traders, further driven by the high performance of teams and players wielding this skin in major tournaments. It commands a significant price in the trading market due to its rarity and popularity among top-tier players.
It was added to Counter-Strike: Global Offensive on 14 September 2017 as part of the The Spectrum 2 Collection with the China, are you ready? update.View Skin Workshop Submission
G3SG1 | Hunter skin float value ranges from 0.00 to 1.00 which makes it available in the following wear conditions: Factory New, Minimal Wear, Field-Tested, Well-Worn, Battle-Scarred.
G3SG1 | Hunter finish style is Gunsmith with finish catalog equal to 677. It's unique flavor text is: 'It smells of rich mahogany'.
G3SG1 | Hunter is a fairly liquid item. It should be easy to sell or exchange it. Traders rates this skin at 4.00/5.0.
Buy on CS.TRADE
Buy or trade for G3SG1 | Hunter skins listed below on CS.TRADE trade bot.