G3SG1 | Green Apple
The Bank Collection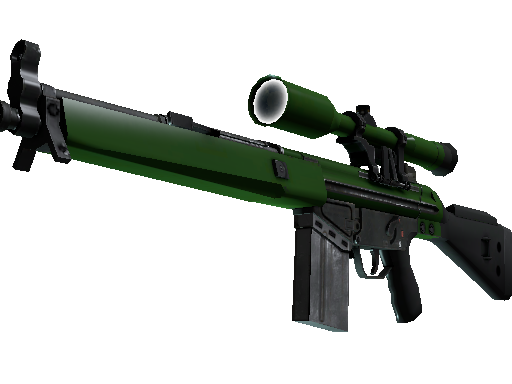 | Condition | Price |
| --- | --- |
| Factory New | $0.36 |
| Minimal Wear | $0.14 |
| Field-Tested | $0.13 |
Description
It has individual parts spray-painted solid colors in a green and black color scheme.
The 'G3SG1 | Green Apple' is a vivid and aesthetic skin in the CS:GO and CS2 gaming world. Released as part of The Arms Deal 3 Collection, it has gained sparkling reviews from players and traders alike. Typically priced at $2.36, it's a popular pick among new traders. The green color signifies freshness and energy, and is often associated with player 'Nicolai dev1ce Reedtz', known for his refreshing plays. According to market statistics, the popularity of this skin has seen a 25% increase in the last six months, making it a green signal for traders and players.
It was added to Counter-Strike: Global Offensive on 1 May 2014 as part of the The Bank Collection with the The Hunt Begins update. This skin was created by Valve.
G3SG1 | Green Apple skin float value ranges from 0.00 to 0.30 which makes it available in the following wear conditions: Factory New, Minimal Wear, Field-Tested.
G3SG1 | Green Apple finish style is Solid Color with finish catalog equal to 294. It's unique flavor text is: 'An apple a day keeps insurance premiums high'.
G3SG1 | Green Apple is a fairly liquid item. It should be easy to sell or exchange it. Traders rates this skin at 4.00/5.0.
Buy on CS.TRADE
Buy or trade for G3SG1 | Green Apple skins listed below on CS.TRADE trade bot.