G3SG1 | Dream Glade
The Dreams & Nightmares Collection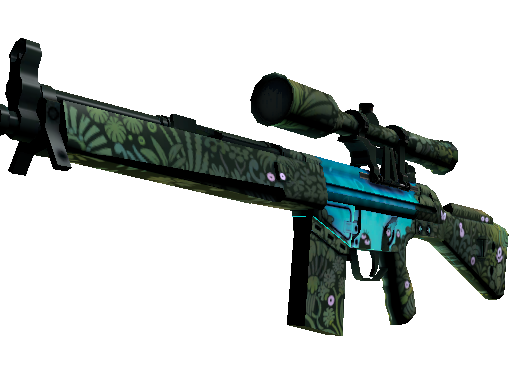 | Condition | Price |
| --- | --- |
| Factory New | $2.07 |
| Minimal Wear | $0.82 |
| Field-Tested | $0.4 |
| Well-Worn | $0.28 |
| Battle-Scarred | $0.36 |
| StatTrak Factory New | $4.18 |
| StatTrak Minimal Wear | $1.57 |
| StatTrak Field-Tested | $0.64 |
| StatTrak Well-Worn | $0.47 |
| StatTrak Battle-Scarred | $0.47 |
Description
A green forest gives way to a blue sky at the center of this custom paint job.
The G3SG1 | Dream Glade, with its dreamy and whimsical design, is a divergent skin that contrasts with the high-intensity environment of CS:GO and CS2. However, the juxtaposition works, with players often choosing this skin for its unique, eye-catching design. Player 'olofmeister' from team FaZe famously used this skin during the 2018 FACEIT London Major, making it a well-recognized item in the community. The market price for the Dream Glade varies between $1.5 and $6.5, a testament to its popularity. Notably, this skin sees increased trading activity during major tournaments, indicating a strong correlation between tournament events and trading behavior.
It was added to Counter-Strike: Global Offensive on 21 January 2022 as part of the The Dreams & Nightmares Collection with the Dreams & Nightmares update.View Skin Workshop Submission
G3SG1 | Dream Glade skin float value ranges from 0.00 to 1.00 which makes it available in the following wear conditions: Factory New, Minimal Wear, Field-Tested, Well-Worn, Battle-Scarred.
G3SG1 | Dream Glade finish style is Custom Paint Job with finish catalog equal to 1129. It's unique flavor text is: '"There, a clearing in the forest!"'.
G3SG1 | Dream Glade is a fairly liquid item. It should be easy to sell or exchange it. Traders rates this skin at 4.02/5.0.
Buy on CS.TRADE
Buy or trade for G3SG1 | Dream Glade skins listed below on CS.TRADE trade bot.