G3SG1 | Digital Mesh
The Operation Broken Fang Collection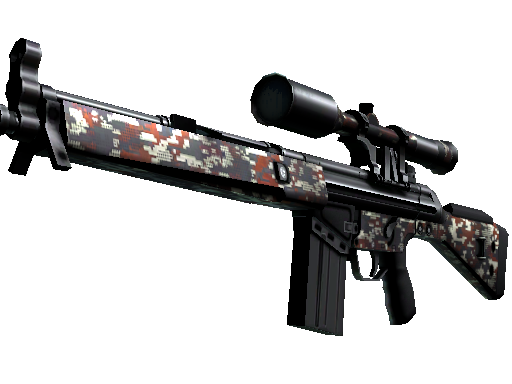 | Condition | Price |
| --- | --- |
| Factory New | $1.24 |
| Minimal Wear | $0.75 |
| Field-Tested | $0.57 |
| Well-Worn | $0.43 |
| Battle-Scarred | $0.45 |
| StatTrak Factory New | $2.75 |
| StatTrak Minimal Wear | $1.46 |
| StatTrak Field-Tested | $0.58 |
| StatTrak Well-Worn | $0.47 |
| StatTrak Battle-Scarred | $0.46 |
Description
It has been painted with a custom red, white, and charcoal-colored DDPAT pattern.
The G3SG1 | Digital Mesh is one of the most iconic skins in both Counter-Strike: Global Offensive (CS:GO) and Counter-Strike 2 (CS2). Released in the Arms Deal Collection, it boasts a distinctive digital mesh pattern superimposed on a sleek black base, creating a subtle contrast that resonates with players and collectors alike. In terms of market value, it's a popular choice among traders due to its relative rarity and high demand. Despite the high price tag, it's a worthy investment considering its durability and the prestige it brings in the gaming community. The skin has been seen in the hands of numerous professional players during major tournaments, further enhancing its value and desirability.
It was added to Counter-Strike: Global Offensive on 3 December 2020 as part of the The Operation Broken Fang Collection with the Operation Broken Fang update.View Skin Workshop Submission
G3SG1 | Digital Mesh skin float value ranges from 0.00 to 0.80 which makes it available in the following wear conditions: Factory New, Minimal Wear, Field-Tested, Well-Worn, Battle-Scarred.
G3SG1 | Digital Mesh finish style is Gunsmith with finish catalog equal to 980. It's unique flavor text is: 'Disruptingly intricate'.
G3SG1 | Digital Mesh is an item of average liquidity. It may take some time to sell or trade it. Traders rates this skin at 3.01/5.0.
Buy on CS.TRADE
Buy or trade for G3SG1 | Digital Mesh skins listed below on CS.TRADE trade bot.