G3SG1 | Contractor
The Baggage Collection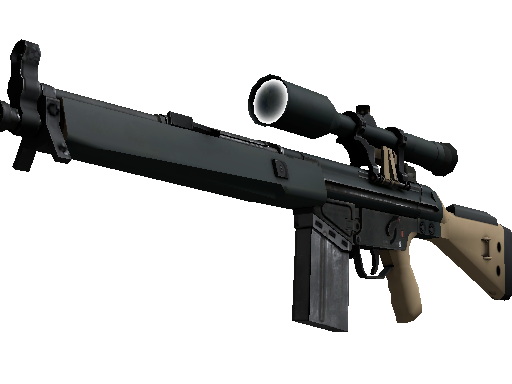 | Condition | Price |
| --- | --- |
| Factory New | $10.06 |
| Minimal Wear | $2.56 |
| Field-Tested | $1.67 |
| Well-Worn | $1.57 |
| Battle-Scarred | $1.89 |
Description
It has individual parts spray-painted tan, navy and dark green.
The G3SG1 | Contractor is a popular skin in both the games CS2 and CS:GO. The sleek, matte black finish gives it a serious and professional appearance, making it a favorite among many players. The skin was introduced in the Arms Deal update, and its value has gradually increased over time. As the weapon is often used in long-range combat, the G3SG1 | Contractor skin can be a great addition for players who prefer to engage from a distance. According to market statistics, the skin is highly sought after, particularly in Factory New condition.
It was added to Counter-Strike: Global Offensive on 1 July 2014 as part of the The Baggage Collection with the Operation Breakout update. This skin was created by Valve.
G3SG1 | Contractor skin float value ranges from 0.06 to 0.80 which makes it available in the following wear conditions: Factory New, Minimal Wear, Field-Tested, Well-Worn, Battle-Scarred.
G3SG1 | Contractor finish style is Solid Color with finish catalog equal to 46. It's unique flavor text is: 'Rona Sabri still hasn't forgiven Sebastien for not selecting her to go after Turner'.
G3SG1 | Contractor is an item of average liquidity. It may take some time to sell or trade it. Traders rates this skin at 3.10/5.0.
Buy on CS.TRADE
Buy or trade for G3SG1 | Contractor skins listed below on CS.TRADE trade bot.