G3SG1 | Azure Zebra
The eSports 2013 Winter Collection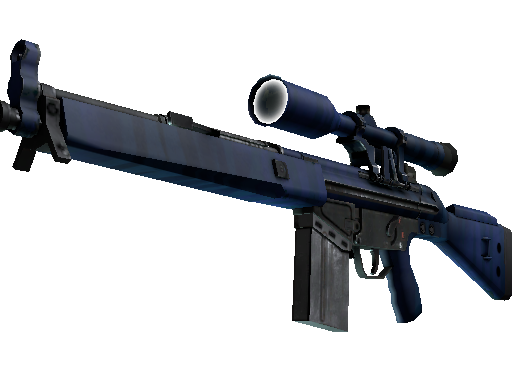 | Condition | Price |
| --- | --- |
| Factory New | $2.62 |
| Minimal Wear | $2.23 |
| Field-Tested | $1.79 |
| StatTrak Factory New | $6.79 |
| StatTrak Minimal Wear | $7.23 |
| StatTrak Field-Tested | $6.7 |
Description
It has been spray-painted in a zebra stripe pattern.
The 'G3SG1 | Azure Zebra' skin features an unforgettable zebra-stripe design in a striking azure colorway. This skin was introduced into the CS:GO universe as part of the Arms Deal update on August 14, 2013. It is obtainable from the 'CS:GO Weapon Case', and also in the CS2 universe. Its popularity among players can be attributed to its vibrant design and overall appeal. On the market, its median price stands at around 0.03 USD, with Factory New versions reaching up to 0.14 USD. The 'G3SG1 | Azure Zebra' stands as a testament to the creative design capabilities within the CS:GO and CS2 communities.
It was added to Counter-Strike: Global Offensive on 18 December 2013 as part of the The eSports 2013 Winter Collection with the Winter Offensive update. This skin was created by Valve.
G3SG1 | Azure Zebra skin float value ranges from 0.00 to 0.28 which makes it available in the following wear conditions: Factory New, Minimal Wear, Field-Tested.
G3SG1 | Azure Zebra finish style is Spray-Paint.
G3SG1 | Azure Zebra is a fairly liquid item. It should be easy to sell or exchange it. Traders rates this skin at 4.03/5.0.
Buy on CS.TRADE
Buy or trade for G3SG1 | Azure Zebra skins listed below on CS.TRADE trade bot.