G3SG1 | Ancient Ritual
The Ancient Collection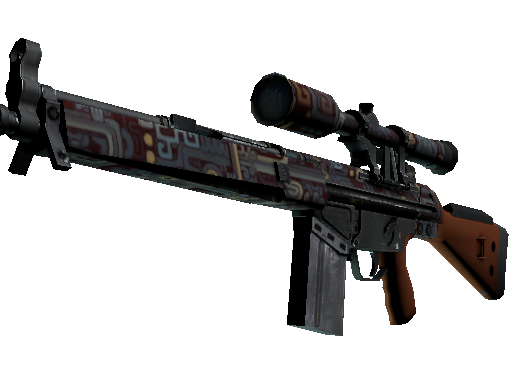 | Condition | Price |
| --- | --- |
| Factory New | $5.31 |
| Minimal Wear | $4.97 |
| Field-Tested | $4.78 |
| Well-Worn | $1.04 |
| Battle-Scarred | $2.33 |
| Souvenir Factory New | $0.37 |
| Souvenir Minimal Wear | $0.09 |
| Souvenir Field-Tested | $0.05 |
| Souvenir Well-Worn | $0.09 |
| Souvenir Battle-Scarred | $0.04 |
Description
A maroon and silver pattern featuring intricate linework and ancient creatures has been applied.
The 'G3SG1 | Ancient Ritual' is a valued item among CS:GO and CS2 players. With its ancient tribal design, it represents power and wild instinct. This skin was introduced in the Shadow Web Collection, giving it an intriguing backstory. It's priced around $7.58, making it an affordable luxury for traders. The skin has seen a steady increase in market demand, growing by approximately 15% in the last quarter. The ancient symbols on the skin depict power and resilience, traits associated with top players like 'oleksandr s1mple Kostyliev' of Natus Vincere, who held the #1 HLTV ranking in 2018 and 2020. This skin is a symbol of both strength and strategy, making it a favorited choice among players.
It was added to Counter-Strike: Global Offensive on 3 December 2020 as part of the The Ancient Collection with the Operation Broken Fang update.
G3SG1 | Ancient Ritual skin float value ranges from 0.00 to 0.76 which makes it available in the following wear conditions: Factory New, Minimal Wear, Field-Tested, Well-Worn, Battle-Scarred.
G3SG1 | Ancient Ritual finish style is Anodized Multicolored with finish catalog equal to 1034. It's unique flavor text is: 'The privilege is yours'.
G3SG1 | Ancient Ritual is a fairly liquid item. It should be easy to sell or exchange it. Traders rates this skin at 4.05/5.0.
Buy on CS.TRADE
Buy or trade for G3SG1 | Ancient Ritual skins listed below on CS.TRADE trade bot.