Flip Knife | Safari Mesh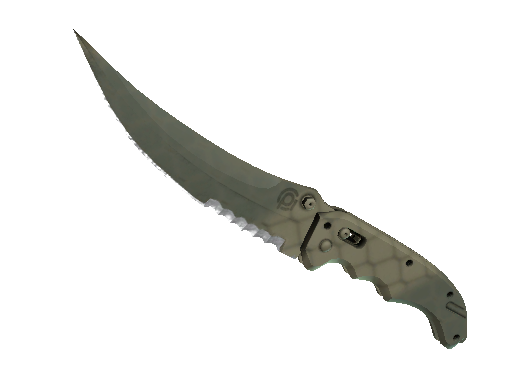 | Condition | Price |
| --- | --- |
| Factory New | $445.57 |
| Minimal Wear | $254.29 |
| Field-Tested | $238.28 |
| Well-Worn | $235.08 |
| Battle-Scarred | $232.68 |
| StatTrak Minimal Wear | $218.42 |
| StatTrak Field-Tested | $226.66 |
| StatTrak Well-Worn | $220.42 |
| StatTrak Battle-Scarred | $256.51 |
Description
It has been spray-painted using mesh fencing and cardboard cutouts as stencils.
More than just a cosmetic item, the 'Flip Knife | Safari Mesh' skin in the CS:GO/CS2 universe is a symbol of prestige and style. This skin, with its intricate mesh design reminiscent of a safari net, instantly sets players apart on the battlefield. Since its inception in the 'Arms Deal' update, this skin has seen a substantial appreciation in value due to its unique design and relevance in desert-based maps. It has been particularly popular amongst players participating in tournaments on desert-themed maps, known for their arid visuals and sandy textures. Investing in a 'Flip Knife | Safari Mesh' can be a valuable move for both players and traders alike.
It was added to Counter-Strike: Global Offensive on 14 August 2013 with the The Arms Deal update.
Flip Knife | Safari Mesh skin float value ranges from 0.06 to 0.80 which makes it available in the following wear conditions: Factory New, Minimal Wear, Field-Tested, Well-Worn, Battle-Scarred.
Flip Knife | Safari Mesh finish style is Spray-Paint with finish catalog equal to 72. It's unique flavor text is: 'A predator is a predator, no matter the environment'.
Flip Knife | Safari Mesh is a fairly liquid item. It should be easy to sell or exchange it. Traders rates this skin at 4.55/5.0.
Buy on CS.TRADE
Buy or trade for Flip Knife | Safari Mesh skins listed below on CS.TRADE trade bot.