Flip Knife | Night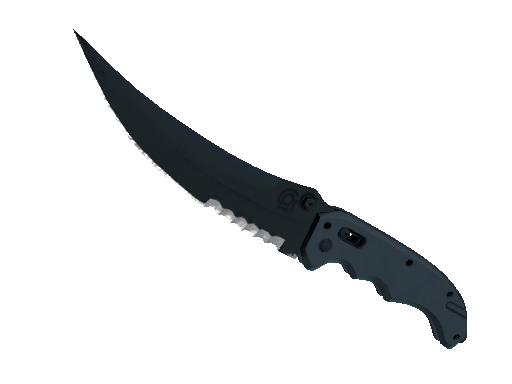 | Condition | Price |
| --- | --- |
| Factory New | $681.2 |
| Minimal Wear | $428.5 |
| Field-Tested | $326.42 |
| Well-Worn | $312.31 |
| Battle-Scarred | $285.22 |
| StatTrak Minimal Wear | $390.6 |
| StatTrak Field-Tested | $325.69 |
| StatTrak Well-Worn | $258.08 |
| StatTrak Battle-Scarred | $278.76 |
Description
It has individual parts spray-painted solid colors in a night ops color scheme.
The 'Flip Knife | Night' is a symbol of mystery and power in CS:GO and CS2 — its dark, minimalistic design combined with the lethal flip knife design makes it a formidable item to possess. This skin was particularly recognized during the 2019 CS:GO StarLadder Major, when pro player 'Eclipse' used it to achieve a key victory. The 'Night' skin is often associated with strategic, stealth-focused game play. Prices for this skin can vary depending on its exterior quality.
It was added to Counter-Strike: Global Offensive on 14 August 2013 with the The Arms Deal update.
Flip Knife | Night skin float value ranges from 0.06 to 0.80 which makes it available in the following wear conditions: Factory New, Minimal Wear, Field-Tested, Well-Worn, Battle-Scarred.
Flip Knife | Night finish style is Solid Color with finish catalog equal to 40. It's unique flavor text is: 'It's the whisper of the wind... it's the bite at your neck'.
Flip Knife | Night is an item of average liquidity. It may take some time to sell or trade it. Traders rates this skin at 4.56/5.0.
Buy on CS.TRADE
Buy or trade for Flip Knife | Night skins listed below on CS.TRADE trade bot.