Flip Knife | Marble Fade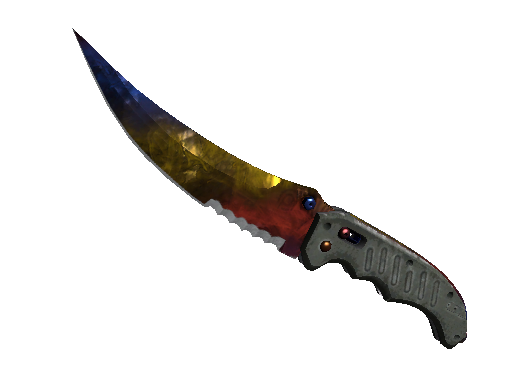 | Condition | Price |
| --- | --- |
| Factory New | $1029.26 |
| Minimal Wear | $925.22 |
| StatTrak Factory New | $968.27 |
| StatTrak Minimal Wear | $267.41 |
Description
It has been painted with black and silver metallic paints using a marbleizing medium, then candy coated in three colors.
Introduced in 'Chroma 2 Case' on April 15, 2015, the 'Flip Knife | Marble Fade' is one of the most visually stunning knife skins in CS:GO/CS2. The unique color gradient going from red to yellow and then blue mimics the look of flaming hot marble, which makes it a head-turner in any game. This skin has seen significant price fluctuations, peaking at a record price of $430.27 on September 19, 2020. The eye-catching design and vivid colors have contributed to the 'Marble Fade' being a highly desired item in the CS:GO/CS2 trading scene.
It was added to Counter-Strike: Global Offensive on 8 January 2015 with the Full Spectrum update.
Flip Knife | Marble Fade skin float value ranges from 0.00 to 0.08 which makes it available in the following wear conditions: Factory New, Minimal Wear.
Flip Knife | Marble Fade finish style is Anodized Multicolored with finish catalog equal to 413. It's unique flavor text is: 'The blade is made of many colors, but soon it all looks red'.
Flip Knife | Marble Fade is a fairly liquid item. It should be easy to sell or exchange it. Traders rates this skin at 4.83/5.0.
Buy on CS.TRADE
Buy or trade for Flip Knife | Marble Fade skins listed below on CS.TRADE trade bot.