Flip Knife | Fade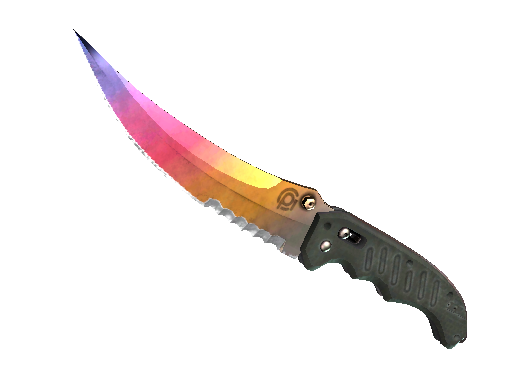 | Condition | Price |
| --- | --- |
| Factory New | $1631.86 |
| Minimal Wear | $1333.3 |
| StatTrak Factory New | $1392.68 |
| StatTrak Minimal Wear | $644.16 |
Description
It has been painted by airbrushing transparent paints that fade together over a chrome base coat.
The 'Flip Knife | Fade' is a unique and coveted skin in both CS:GO and CS2. Known for its hypnotic gradient of colors, this knife is equally renowned for its fast deploy speed. The base of the blade has a radiant purple hue that beautifully transitions into a mix of pink, gold, and blue tones. This spectacular knife skin was introduced in 2013 and has been a player's favorite ever since. Its price has been on an upward trajectory, making it a hot item for investors. The 'Flip Knife | Fade' embodies the dynamic pace of Counter-Strike games and is a must-have for energetic, fast-paced players.
It was added to Counter-Strike: Global Offensive on 14 August 2013 with the The Arms Deal update.
Flip Knife | Fade skin float value ranges from 0.00 to 0.08 which makes it available in the following wear conditions: Factory New, Minimal Wear.
Flip Knife | Fade finish style is Anodized Airbrushed with finish catalog equal to 38. It's unique flavor text is: 'This isn't just a weapon, it's a conversation piece - Imogen, Arms Dealer In Training'.
Flip Knife | Fade is a fairly liquid item. It should be easy to sell or exchange it. Traders rates this skin at 4.53/5.0.
Buy on CS.TRADE
Buy or trade for Flip Knife | Fade skins listed below on CS.TRADE trade bot.