Flip Knife | Crimson Web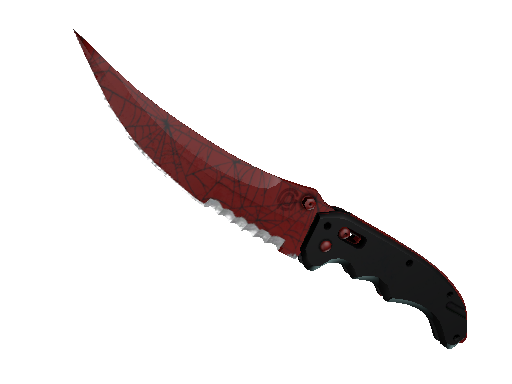 | Condition | Price |
| --- | --- |
| Factory New | $2636.72 |
| Minimal Wear | $917.84 |
| Field-Tested | $544.02 |
| Well-Worn | $475.94 |
| Battle-Scarred | $396.21 |
| StatTrak Minimal Wear | $943.38 |
| StatTrak Field-Tested | $513.84 |
| StatTrak Well-Worn | $319.75 |
| StatTrak Battle-Scarred | $327.36 |
Description
It has been painted using a spider web-patterned hydrographic over a red base coat and finished with a semi-gloss topcoat.
The 'Flip Knife | Crimson Web' is a prized item among CS:GO and CS2 players and traders alike. It features intricate patterns of crimson and black, akin to a spider's web, offering a menacing aesthetic to the wielder. This distinct design often commands a premium price on the open market. The weapon gained popularity during the 2015 CS:GO Championship Series, where famed player 'Flash' used it to secure a victory for his team. The 'Crimson Web' pattern is one of the most recognized in the game, contributing to its high demand and value. It is commonly associated with aggressive play styles, amplifying its prestige.
It was added to Counter-Strike: Global Offensive on 14 August 2013 with the The Arms Deal update.
Flip Knife | Crimson Web skin float value ranges from 0.06 to 0.80 which makes it available in the following wear conditions: Factory New, Minimal Wear, Field-Tested, Well-Worn, Battle-Scarred.
Flip Knife | Crimson Web finish style is Hydrographic with finish catalog equal to 12. It's unique flavor text is: 'Be careful where you walk, you never know where the web is spread'.
Flip Knife | Crimson Web is an item of average liquidity. It may take some time to sell or trade it. Traders rates this skin at 4.98/5.0.
Buy on CS.TRADE
Buy or trade for Flip Knife | Crimson Web skins listed below on CS.TRADE trade bot.