Flip Knife | Boreal Forest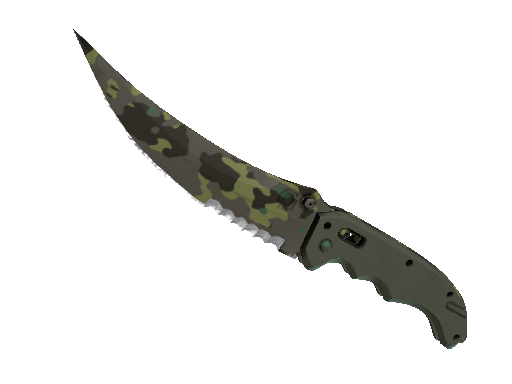 | Condition | Price |
| --- | --- |
| Factory New | $96.11 |
| Minimal Wear | $284.99 |
| Field-Tested | $256.75 |
| Well-Worn | $235.7 |
| Battle-Scarred | $246.61 |
| StatTrak Minimal Wear | $284.78 |
| StatTrak Field-Tested | $243.54 |
| StatTrak Well-Worn | $104.47 |
| StatTrak Battle-Scarred | $234.93 |
Description
It has been painted using a forest camouflage hydrographic.
The 'Flip Knife | Boreal Forest' is an essential piece in the CS:GO/CS2 catalog. This skin comes with a unique camouflage pattern that reflects the dense greenery of the Boreal Forest, making it a valuable item for players seeking stealth in virtual combat. This item was first released in the 'Arms Deal' update, and over the years, it has maintained a steady market value due to its consistent demand among gamers worldwide. Furthermore, this skin has been observed to gain more popularity during outdoor map tournaments owing to its aesthetic coherence with such environments. Whether you are a novice trader just getting started or a seasoned player looking to expand your inventory, the 'Flip Knife | Boreal Forest' is a worthy asset to consider.
It was added to Counter-Strike: Global Offensive on 14 August 2013 with the The Arms Deal update.
Flip Knife | Boreal Forest skin float value ranges from 0.06 to 0.80 which makes it available in the following wear conditions: Factory New, Minimal Wear, Field-Tested, Well-Worn, Battle-Scarred.
Flip Knife | Boreal Forest finish style is Hydrographic with finish catalog equal to 77. It's unique flavor text is: 'The woods can be a dangerous place... never travel alone'.
Flip Knife | Boreal Forest is a fairly liquid item. It should be easy to sell or exchange it. Traders rates this skin at 4.76/5.0.
Buy on CS.TRADE
Buy or trade for Flip Knife | Boreal Forest skins listed below on CS.TRADE trade bot.