Five-SeveN | Withered Vine
The 2021 Dust 2 Collection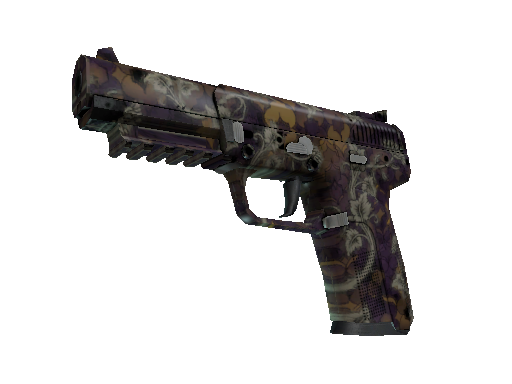 | Condition | Price |
| --- | --- |
| Factory New | $4.56 |
| Minimal Wear | $4.44 |
| Field-Tested | $4.26 |
| Well-Worn | $4.49 |
| Battle-Scarred | $4.11 |
| Souvenir Factory New | $0.23 |
| Souvenir Minimal Wear | $0.08 |
| Souvenir Field-Tested | $0.05 |
| Souvenir Well-Worn | $0.07 |
| Souvenir Battle-Scarred | $0.08 |
Description
It has been spray-painted with a flower pattern in purple and gold.
The 'Five-SeveN | Withered Vine' is an exclusive skin featured in the tactical first-person shooter games CS:GO and CS2. It boasts a unique design with intertwining vines, presenting the image of a withered vine creeping across the weapon. The popularity of this skin has been growing among players and traders, primarily due to its artistic value and the implication of endurance and resilience. Since its release, the 'Five-SeveN | Withered Vine' has seen significant fluctuations in market price, making it an intriguing item for potential traders. A standout piece in the collection, it continues to attract players aiming for a unique and impressive inventory.
It was added to Counter-Strike: Global Offensive on 22 September 2021 as part of the The 2021 Dust 2 Collection with the Operation Riptide update.
Five-SeveN | Withered Vine skin float value ranges from 0.00 to 0.50 which makes it available in the following wear conditions: Factory New, Minimal Wear, Field-Tested, Well-Worn, Battle-Scarred.
Five-SeveN | Withered Vine finish style is Spray-Paint with finish catalog equal to 932. It's unique flavor text is: 'Some see a nuisance; I see beauty'.
Five-SeveN | Withered Vine is a fairly liquid item. It should be easy to sell or exchange it. Traders rates this skin at 4.05/5.0.
Buy on CS.TRADE
Buy or trade for Five-SeveN | Withered Vine skins listed below on CS.TRADE trade bot.