Five-SeveN | Urban Hazard
The Vanguard Collection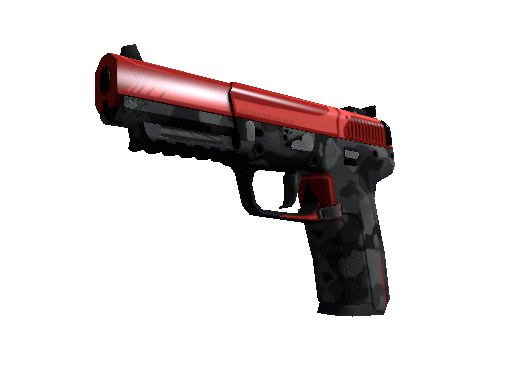 | Condition | Price |
| --- | --- |
| Factory New | $1.78 |
| Minimal Wear | $1.18 |
| Field-Tested | $0.8 |
| StatTrak Factory New | $4.49 |
| StatTrak Minimal Wear | $2.74 |
| StatTrak Field-Tested | $2.24 |
Description
It has been custom painted with urban camo and red accents.
Since its introduction to CS:GO on 10th July 2014, 'Five-SeveN | Urban Hazard' has been lauded for its sleek design. Its high contrast red and white geometric design against a solid black handle gives it an urban feel that lives up to its name. The skin was part of the 'Operation Breakout Weapon Case' and is commonly seen in both casual and competitive play. As per the Steam Market, the price ranges from $0.11 for Battle-Scarred to $0.32 for Factory-New condition. Its accessible price and vibrant design make it a popular choice among CS:GO and CS2 traders and players.
It was added to Counter-Strike: Global Offensive on 11 November 2014 as part of the The Vanguard Collection with the Operation Vanguard update.View Skin Workshop Submission
Five-SeveN | Urban Hazard skin float value ranges from 0.00 to 0.25 which makes it available in the following wear conditions: Factory New, Minimal Wear, Field-Tested.
Five-SeveN | Urban Hazard finish style is Custom Paint Job with finish catalog equal to 387. It's unique flavor text is: 'Every year, Booth gathers the worlds foremost designer gunsmiths to show off their latest designs'.
Five-SeveN | Urban Hazard is a fairly liquid item. It should be easy to sell or exchange it. Traders rates this skin at 4.02/5.0.
Buy on CS.TRADE
Buy or trade for Five-SeveN | Urban Hazard skins listed below on CS.TRADE trade bot.