Five-SeveN | Triumvirate
The Wildfire Collection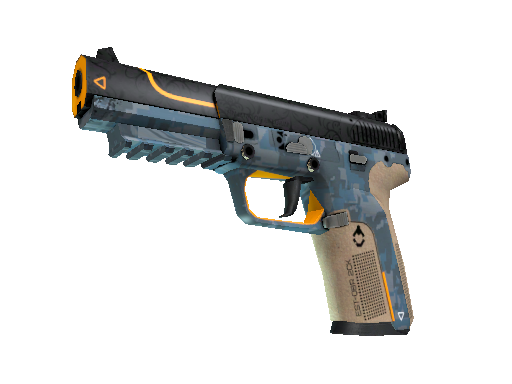 | Condition | Price |
| --- | --- |
| Factory New | $6.06 |
| Minimal Wear | $4.11 |
| Field-Tested | $2.79 |
| Well-Worn | $2.94 |
| Battle-Scarred | $2.25 |
| StatTrak Factory New | $11.5 |
| StatTrak Minimal Wear | $7.47 |
| StatTrak Field-Tested | $4.99 |
| StatTrak Well-Worn | $3.74 |
| StatTrak Battle-Scarred | $3.79 |
Description
It has been given a light blue DDPAT hydrographic as well as a custom painted slide.
The 'Five-SeveN | Triumvirate' skin is a unique blend of design, color, and history, making it a much-sought-after skin within the player community in both CS:GO and CS2. It showcases the high standards of gameplay exhibited in CS tournaments. Its rich history and popularity have contributed to its increasing market value. This skin is a testament to the highest levels of skill and precision that players have achieved in the game. The intricate design and vibrant colors of the skin make it a standout asset in any player's collection.
It was added to Counter-Strike: Global Offensive on 18 February 2016 as part of the The Wildfire Collection with the Operation Wildfire update.View Skin Workshop Submission
Five-SeveN | Triumvirate skin float value ranges from 0.00 to 0.61 which makes it available in the following wear conditions: Factory New, Minimal Wear, Field-Tested, Well-Worn, Battle-Scarred.
Five-SeveN | Triumvirate finish style is Custom Paint Job with finish catalog equal to 530. It's unique flavor text is: 'I don't profit from war, I profit from the human condition... - Booth, Arms Dealer'.
Five-SeveN | Triumvirate is a fairly liquid item. It should be easy to sell or exchange it. Traders rates this skin at 4.06/5.0.
Buy on CS.TRADE
Buy or trade for Five-SeveN | Triumvirate skins listed below on CS.TRADE trade bot.