Five-SeveN | Scumbria
The Gamma 2 Collection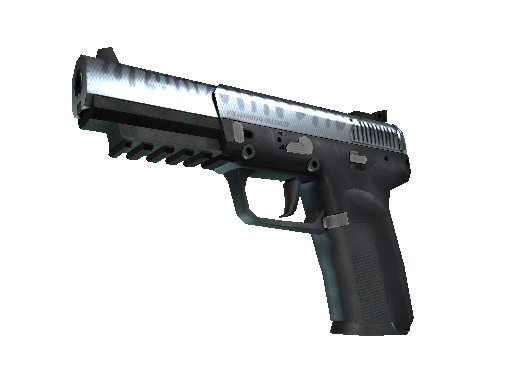 | Condition | Price |
| --- | --- |
| Factory New | $0.45 |
| Minimal Wear | $0.1 |
| Field-Tested | $0.11 |
| Well-Worn | $0.1 |
| Battle-Scarred | $0.1 |
| StatTrak Factory New | $2.29 |
| StatTrak Minimal Wear | $0.46 |
| StatTrak Field-Tested | $0.13 |
| StatTrak Well-Worn | $0.11 |
| StatTrak Battle-Scarred | $0.11 |
Description
It has been discretely painted with stripes.
Introduced to CS:GO on 17th September 2015 as part of the 'Shadow Collection', the 'Five-SeveN | Scumbria' boasts an intricate design that looks like abstract marine life. Its deep sea blue base with scattered patches of turquoise and orange mimic the natural, underwater scenery. It has successfully captured the attention of many players and traders alike, due to both its visually appealing aesthetic and its wide extent of wear levels. Depending on the condition, the Scumbria skin is priced between $0.07 and $0.3 on the Steam Market.
It was added to Counter-Strike: Global Offensive on 19 August 2016 as part of the The Gamma 2 Collection with the Double Exposure update.View Skin Workshop Submission
Five-SeveN | Scumbria skin float value ranges from 0.00 to 1.00 which makes it available in the following wear conditions: Factory New, Minimal Wear, Field-Tested, Well-Worn, Battle-Scarred.
Five-SeveN | Scumbria finish style is Patina with finish catalog equal to 605. It's unique flavor text is: 'You can't leave him to die, Felix; you have to save him - The Daughter and the Paladin Part 1'.
Five-SeveN | Scumbria is an item of average liquidity. It may take some time to sell or trade it. Traders rates this skin at 3.00/5.0.
Buy on CS.TRADE
Buy or trade for Five-SeveN | Scumbria skins listed below on CS.TRADE trade bot.