Five-SeveN | Orange Peel
The Dust 2 Collection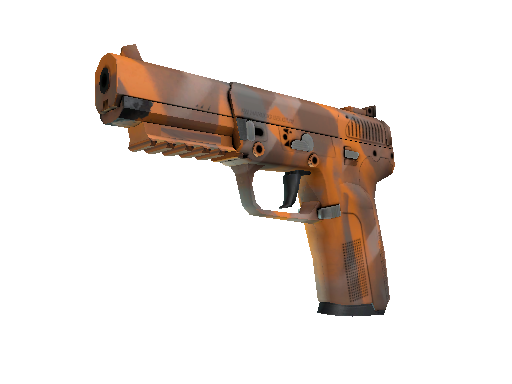 | Condition | Price |
| --- | --- |
| Factory New | $0.79 |
| Minimal Wear | $0.18 |
| Field-Tested | $0.12 |
| Well-Worn | $0.1 |
| Battle-Scarred | $0.08 |
| Souvenir Factory New | $12.07 |
| Souvenir Minimal Wear | $3.43 |
| Souvenir Field-Tested | $1.03 |
| Souvenir Well-Worn | $3.18 |
| Souvenir Battle-Scarred | $1.68 |
Description
It has been spray-painted using a tangle of masking tape as a stencil.
'Five-SeveN | Orange Peel' is a skin for CS:GO and CS2 with a distinct textured design resembling an orange peel. Its unique pattern and vibrant orange hue embody the spirit of competitiveness and excitement synonymous with the games. The market value of 'Five-SeveN | Orange Peel' has been reasonably stable, making it a safe trading option for beginners. Its popularity continues to grow steadily among players and traders alike. The orange peel texture imparts a unique tactile appeal, making it a highlight in any player's inventory.
It was added to Counter-Strike: Global Offensive on 27 November 2013 as part of the The Dust 2 Collection with the Out with the old, in with the new update. This skin was created by Valve.
Five-SeveN | Orange Peel skin float value ranges from 0.06 to 0.80 which makes it available in the following wear conditions: Factory New, Minimal Wear, Field-Tested, Well-Worn, Battle-Scarred.
Five-SeveN | Orange Peel finish style is Spray-Paint with finish catalog equal to 141. It's unique flavor text is: 'True power is demonstrated with subtle application'.
Five-SeveN | Orange Peel is a fairly liquid item. It should be easy to sell or exchange it. Traders rates this skin at 4.01/5.0.
Buy on CS.TRADE
Buy or trade for Five-SeveN | Orange Peel skins listed below on CS.TRADE trade bot.