Five-SeveN | Nitro
The Chop Shop Collection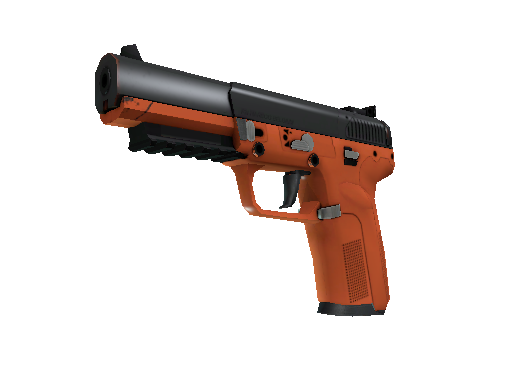 | Condition | Price |
| --- | --- |
| Factory New | $31.82 |
| Minimal Wear | $34.17 |
| Field-Tested | $31.27 |
| Well-Worn | $4.17 |
| Battle-Scarred | $22.72 |
Description
It has individual parts spray-painted black and tangerine orange.
The 'Five-SeveN | Nitro' is an emblematic skin in both CS:GO and CS2. Its sleek, metallic design connotes speed and precision, reflecting the skillset required in competitive play. The 'Five-SeveN | Nitro' was often spotted during the ELEAGUE Major, demonstrating its popularity amongst top-tier players. This skin holds a stable market value, thus promising traders a good return. Investing in this skin could also enhance a player's in-game experience, as it exhibits a taste for quality and performance.
It was added to Counter-Strike: Global Offensive on 26 May 2015 as part of the The Chop Shop Collection with the Operation Bloodhound update. This skin was created by Valve.
Five-SeveN | Nitro skin float value ranges from 0.06 to 0.80 which makes it available in the following wear conditions: Factory New, Minimal Wear, Field-Tested, Well-Worn, Battle-Scarred.
Five-SeveN | Nitro finish style is Solid Color with finish catalog equal to 254. It's unique flavor text is: 'Rona is as good as she thinks she is... she's just not old enough to realize she shouldn't point it out to everyone - Felix Riley, Commanding Officer'.
Five-SeveN | Nitro is an item of average liquidity. It may take some time to sell or trade it. Traders rates this skin at 3.34/5.0.
Buy on CS.TRADE
Buy or trade for Five-SeveN | Nitro skins listed below on CS.TRADE trade bot.