Five-SeveN | Nightshade
The eSports 2013 Winter Collection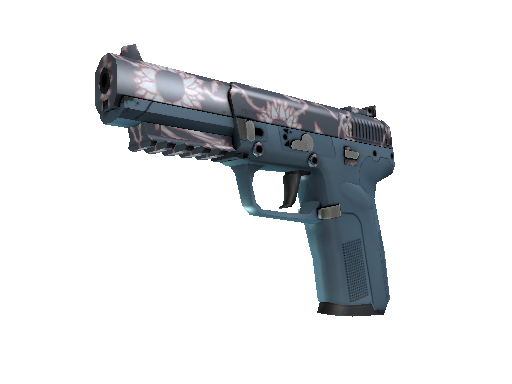 | Condition | Price |
| --- | --- |
| Factory New | $2.4 |
| Minimal Wear | $2.44 |
| Field-Tested | $1.94 |
| Well-Worn | $1.55 |
| Battle-Scarred | $1.97 |
| StatTrak Factory New | $8.25 |
| StatTrak Minimal Wear | $7.37 |
| StatTrak Field-Tested | $6.95 |
| StatTrak Well-Worn | $4.84 |
| StatTrak Battle-Scarred | $4 |
Description
It has been painted using a hydrographic with a floral pattern in the style of the Arts and Crafts movement.
The 'Five-SeveN | Nightshade' is a coveted item amongst CS:GO and CS2 gamers. This skin showcases an aesthetic design featuring a dark, floral pattern that encapsulates the intrigue and mystery of the night. Its rarity and unique allure make it sought-after amongst traders. The 'Five-SeveN | Nightshade' has seen various price fluctuations since its release, with a significant surge during the eSports Championship Series. Utilizing this skin during gameplay could provide a psychological edge, as its distinctive design separates it from the standard weapon skins. With a steady demand in the market, this skin could provide a decent return on investment for traders.
It was added to Counter-Strike: Global Offensive on 18 December 2013 as part of the The eSports 2013 Winter Collection with the Winter Offensive update. This skin was created by Valve.
Five-SeveN | Nightshade skin float value ranges from 0.00 to 0.50 which makes it available in the following wear conditions: Factory New, Minimal Wear, Field-Tested, Well-Worn, Battle-Scarred.
Five-SeveN | Nightshade finish style is Hydrographic.
Five-SeveN | Nightshade is a fairly liquid item. It should be easy to sell or exchange it. Traders rates this skin at 4.02/5.0.
Buy on CS.TRADE
Buy or trade for Five-SeveN | Nightshade skins listed below on CS.TRADE trade bot.