Five-SeveN | Hot Shot
The Cache Collection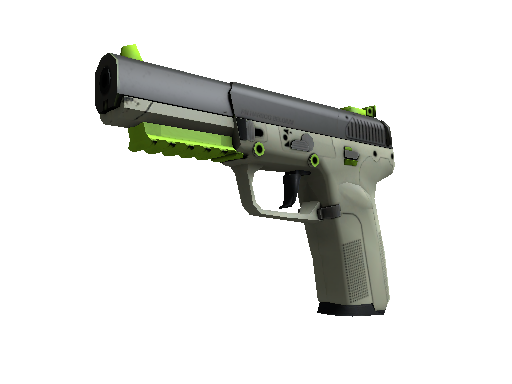 | Condition | Price |
| --- | --- |
| Factory New | $8.31 |
| Minimal Wear | $2.99 |
| Field-Tested | $1.87 |
| Well-Worn | $1.82 |
| Battle-Scarred | $0.98 |
| Souvenir Factory New | $23.01 |
| Souvenir Minimal Wear | $5.8 |
| Souvenir Field-Tested | $1.21 |
| Souvenir Well-Worn | $0.72 |
| Souvenir Battle-Scarred | $0.75 |
Description
It has been painted solid colors in light grey and hot green.
The 'Five-SeveN | Hot Shot' is a fiery addition to CS:GO and CS2 inventory. It's known for its distinct design featuring a blazing red and orange color scheme, and a motif resembling a bullet in flight. This skin is widely popular among players who prefer a bolder gaming style, and it's a hot commodity among traders. The market statistics for 'Five-SeveN | Hot Shot' are quite impressive, with stable price trends demonstrating its sustained demand. Its vibrant design and reputation make it a highly coveted asset in any player's collection.
It was added to Counter-Strike: Global Offensive on 8 August 2014 as part of the The Cache Collection with the Cologne 2014 update. This skin was created by Valve.
Five-SeveN | Hot Shot skin float value ranges from 0.00 to 1.00 which makes it available in the following wear conditions: Factory New, Minimal Wear, Field-Tested, Well-Worn, Battle-Scarred.
Five-SeveN | Hot Shot finish style is Solid Color.
Five-SeveN | Hot Shot is a fairly liquid item. It should be easy to sell or exchange it. Traders rates this skin at 4.08/5.0.
Buy on CS.TRADE
Buy or trade for Five-SeveN | Hot Shot skins listed below on CS.TRADE trade bot.