Five-SeveN | Contractor
The Mirage Collection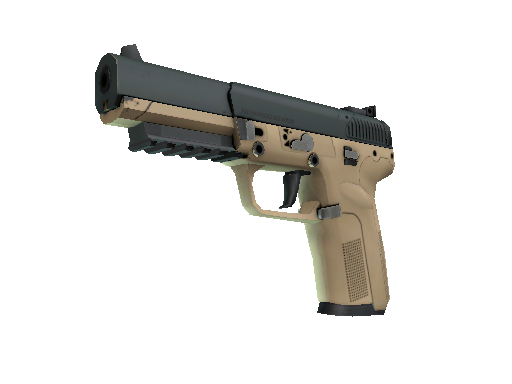 | Condition | Price |
| --- | --- |
| Factory New | $10.23 |
| Minimal Wear | $1.58 |
| Field-Tested | $1.74 |
| Well-Worn | $1.58 |
| Battle-Scarred | $1.5 |
| Souvenir Factory New | $13.76 |
| Souvenir Minimal Wear | $1.28 |
| Souvenir Field-Tested | $0.29 |
| Souvenir Well-Worn | $0.43 |
| Souvenir Battle-Scarred | $0.2 |
Description
It has individual parts spray-painted tan, navy and dark green.
The 'Five-SeveN | Contractor' is a minimalist skin from the 'Office Collection', revealing its simplistic beauty. It has a plain grey finish with minimal distractions. The skin is favored by many players for its clean design and is perfect for those looking for a subtle touch to their weapon collection. Being a part of the 'Office Collection', it has a high prevalence rate in the esports community. It is often seen in the hands of professional players and streamers alike during high stakes tournaments. The trade value for this skin can vary greatly depending on its exterior condition. Generally, the value will increase if the skin is in a 'Factory New' or 'Minimal Wear' condition.
It was added to Counter-Strike: Global Offensive on 27 November 2013 as part of the The Mirage Collection with the Out with the old, in with the new update. This skin was created by Valve.
Five-SeveN | Contractor skin float value ranges from 0.06 to 0.80 which makes it available in the following wear conditions: Factory New, Minimal Wear, Field-Tested, Well-Worn, Battle-Scarred.
Five-SeveN | Contractor finish style is Solid Color with finish catalog equal to 46. It's unique flavor text is: 'Rona Sabri still hasn't forgiven Sebastien for not selecting her to go after Turner'.
Five-SeveN | Contractor is an item of very low liquidity. It's hard to sell or trade. Traders rates this skin at 2.10/5.0.
Buy on CS.TRADE
Buy or trade for Five-SeveN | Contractor skins listed below on CS.TRADE trade bot.