Five-SeveN | Candy Apple
The Assault Collection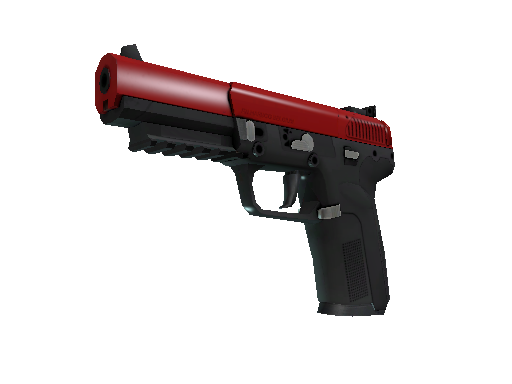 | Condition | Price |
| --- | --- |
| Factory New | $113.73 |
| Minimal Wear | $105.69 |
| Field-Tested | $68.71 |
Description
It has individual parts spray-painted solid colors in a red and black color scheme.
The 'Five-SeveN | Candy Apple' skin for CS:GO and CS2 sports a bright, glossy red reminiscent of a ripe apple, invoking a sense of nostalgia and charm. It's a favorite among players for its clean and streamlined look. Traders too have shown much interest in 'Five-SeveN | Candy Apple' due to its consistent market performance and attractive price point. This skin's striking red tone set against a sleek weapon silhouette offers a visual treat, making it a popular choice for players seeking to make a statement.
It was added to Counter-Strike: Global Offensive on 14 August 2013 as part of the The Assault Collection with the The Arms Deal update. This skin was created by Valve.
Five-SeveN | Candy Apple skin float value ranges from 0.00 to 0.30 which makes it available in the following wear conditions: Factory New, Minimal Wear, Field-Tested.
Five-SeveN | Candy Apple finish style is Solid Color with finish catalog equal to 3. It's unique flavor text is: 'Great on cars, better on weapons'.
Five-SeveN | Candy Apple is a fairly liquid item. It should be easy to sell or exchange it. Traders rates this skin at 4.52/5.0.
Buy on CS.TRADE
Buy or trade for Five-SeveN | Candy Apple skins listed below on CS.TRADE trade bot.