Five-SeveN | Buddy
The CS20 Collection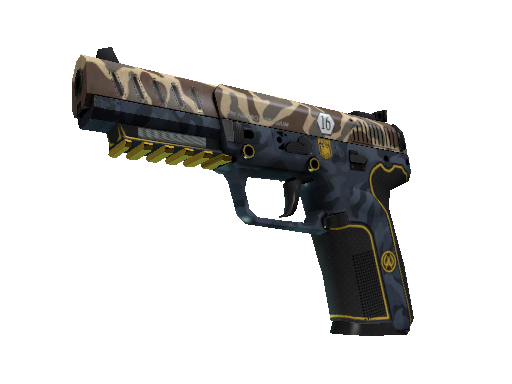 | Condition | Price |
| --- | --- |
| Factory New | $2.78 |
| Minimal Wear | $1.72 |
| Field-Tested | $1.08 |
| Well-Worn | $1.02 |
| Battle-Scarred | $1.02 |
| StatTrak Factory New | $5.58 |
| StatTrak Minimal Wear | $3.32 |
| StatTrak Field-Tested | $1.83 |
| StatTrak Well-Worn | $1.85 |
| StatTrak Battle-Scarred | $1.66 |
Description
It has been custom painted with camo patterns and a CT beneath the rear sight.
'Five-SeveN | Buddy' is a collector's favorite in both CS:GO and CS2. Its detailed design, dynamic characters, and vibrant colors make it a visually appealing choice for players. 'Five-SeveN | Buddy' is a testament to the unparalleled skill, precision, and teamwork demonstrated by the players in various tournaments. The value of this skin has steadily climbed in the market due to its recognition and demand among players and collectors alike. It is not just a skin, but a badge of honor among the gaming community.
It was added to Counter-Strike: Global Offensive on 18 October 2019 as part of the The CS20 Collection with the Cache and Release update.View Skin Workshop Submission
Five-SeveN | Buddy skin float value ranges from 0.00 to 0.55 which makes it available in the following wear conditions: Factory New, Minimal Wear, Field-Tested, Well-Worn, Battle-Scarred.
Five-SeveN | Buddy finish style is Custom Paint Job with finish catalog equal to 906. It's unique flavor text is: 'I've got your six'.
Five-SeveN | Buddy is an item of average liquidity. It may take some time to sell or trade it. Traders rates this skin at 3.03/5.0.
Buy on CS.TRADE
Buy or trade for Five-SeveN | Buddy skins listed below on CS.TRADE trade bot.