Five-SeveN | Boost Protocol
The Operation Riptide Collection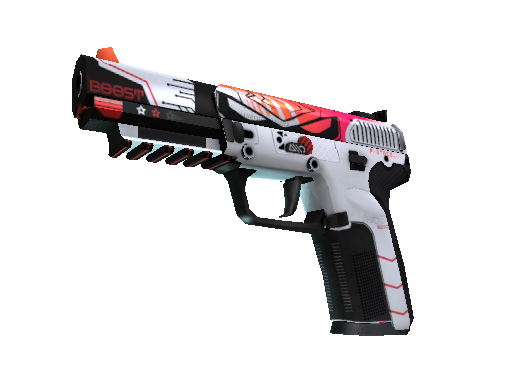 | Condition | Price |
| --- | --- |
| Factory New | $4.26 |
| Minimal Wear | $2.89 |
| Field-Tested | $1.95 |
| Well-Worn | $1.86 |
| StatTrak Factory New | $13.01 |
| StatTrak Minimal Wear | $7.16 |
| StatTrak Field-Tested | $4.19 |
| StatTrak Well-Worn | $4.21 |
Description
It has been custom painted using high contrast colors. The robot icon beneath the rear sight matches the art on the slide.
The 'Five-SeveN | Boost Protocol' skin is a favorite among CS:GO and CS2 players. Its sleek, metallic design and the fine attention to detail make this skin a coveted asset. This skin has been part of the CS:GO and CS2 tournaments, often being used as a marker of player status and skill. With the rise in popularity of CS:GO and CS2, the value of 'Five-SeveN | Boost Protocol' has seen a steady increase on the market. Its intricate design patterns and superior finish make it a sought-after choice for players worldwide. Its creation was inspired by some of the best performances in the game's history, and owning this skin is considered a mark of distinction.
It was added to Counter-Strike: Global Offensive on 22 September 2021 as part of the The Operation Riptide Collection with the Operation Riptide update.View Skin Workshop Submission
Five-SeveN | Boost Protocol skin float value ranges from 0.00 to 0.41 which makes it available in the following wear conditions: Factory New, Minimal Wear, Field-Tested, Well-Worn.
Five-SeveN | Boost Protocol finish style is Gunsmith with finish catalog equal to 1093. It's unique flavor text is: 'Callsign'.
Five-SeveN | Boost Protocol is a fairly liquid item. It should be easy to sell or exchange it. Traders rates this skin at 4.04/5.0.
Buy on CS.TRADE
Buy or trade for Five-SeveN | Boost Protocol skins listed below on CS.TRADE trade bot.