Five-SeveN | Angry Mob
The Prisma Collection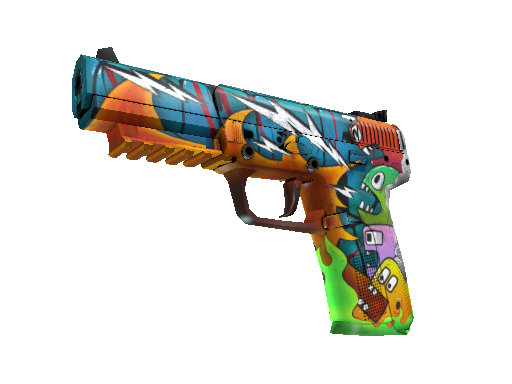 | Condition | Price |
| --- | --- |
| Factory New | $18.51 |
| Minimal Wear | $8.8 |
| Field-Tested | $4.43 |
| Well-Worn | $4.51 |
| Battle-Scarred | $4.1 |
| StatTrak Factory New | $59.59 |
| StatTrak Minimal Wear | $22.38 |
| StatTrak Field-Tested | $10.67 |
| StatTrak Well-Worn | $13.25 |
| StatTrak Battle-Scarred | $10.53 |
Description
A brightly colored paint job inspired by street art has been applied.
The 'Five-SeveN | Angry Mob' skin is a popular choice among CS:GO and CS2 players. It is well-known for its unique graffiti-like design showcasing a vibrant riot scene. This skin was first introduced during the Prisma Case event in March 2019, making it a relatively recent addition to the CS:GO/CS2 weapon arsenal. The cost of 'Five-SeveN | Angry Mob' fluctuates based on its condition and can range anywhere from $1.50 to $35.00. The rarity of this skin adds to its value, contributing to its popularity among traders and players alike. Apart from its monetary worth, the skin also holds high in-game value due to its impressive design aesthetics.
It was added to Counter-Strike: Global Offensive on 14 March 2019 as part of the The Prisma Collection with the Seeing the Light update.View Skin Workshop Submission
Five-SeveN | Angry Mob skin float value ranges from 0.00 to 0.70 which makes it available in the following wear conditions: Factory New, Minimal Wear, Field-Tested, Well-Worn, Battle-Scarred.
Five-SeveN | Angry Mob finish style is Custom Paint Job with finish catalog equal to 837. It's unique flavor text is: '"Inside voices, please"'.
Five-SeveN | Angry Mob is a fairly liquid item. It should be easy to sell or exchange it. Traders rates this skin at 4.19/5.0.
Buy on CS.TRADE
Buy or trade for Five-SeveN | Angry Mob skins listed below on CS.TRADE trade bot.