Falchion Knife | Slaughter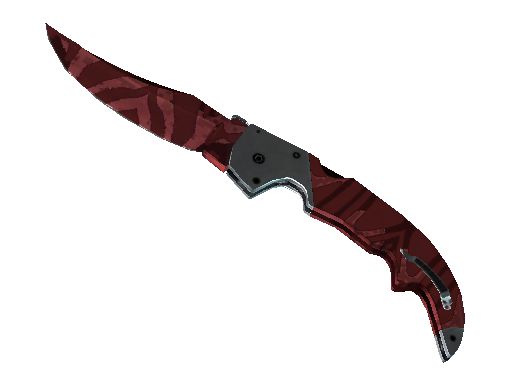 | Condition | Price |
| --- | --- |
| Factory New | $448.44 |
| Minimal Wear | $405.84 |
| Field-Tested | $350.6 |
| StatTrak Factory New | $439.01 |
| StatTrak Minimal Wear | $383.31 |
| StatTrak Field-Tested | $347.16 |
Description
It has been painted in a zebra-stripe pattern with aluminum and chrome paints with various reflectivities, and has then been covered with a tomato red candy coat.
The 'Falchion Knife | Slaughter' is a prominent skin in CS:GO/CS2 with its striking red and silver color scheme. Designed with intricate patterns, this skin signifies a fierce and strong gameplay style. Its visual appeal combined with its high demand makes it a valuable item in the market. The Slaughter design adds a powerful, aggressive appearance to the player's in-game character.
It was added to Counter-Strike: Global Offensive on 26 May 2015 with the Operation Bloodhound update.
Falchion Knife | Slaughter skin float value ranges from 0.01 to 0.26 which makes it available in the following wear conditions: Factory New, Minimal Wear, Field-Tested.
Falchion Knife | Slaughter finish style is Anodized Multicolored with finish catalog equal to 59. It's unique flavor text is: 'Valeria doesn't pay Javier to ask questions... she pays him to pry out answers'.
Falchion Knife | Slaughter is a fairly liquid item. It should be easy to sell or exchange it. Traders rates this skin at 4.96/5.0.
Buy on CS.TRADE
Buy or trade for Falchion Knife | Slaughter skins listed below on CS.TRADE trade bot.