FAMAS | ZX Spectron
The Operation Riptide Collection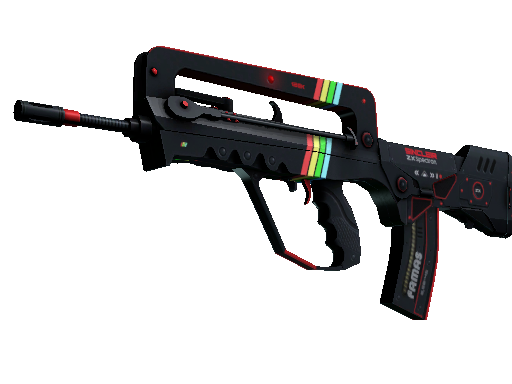 | Condition | Price |
| --- | --- |
| Factory New | $9.68 |
| Minimal Wear | $3.67 |
| Field-Tested | $2.26 |
| Well-Worn | $1.87 |
| Battle-Scarred | $1.82 |
| StatTrak Factory New | $29.77 |
| StatTrak Minimal Wear | $10.05 |
| StatTrak Field-Tested | $4.43 |
| StatTrak Well-Worn | $3.7 |
| StatTrak Battle-Scarred | $3.59 |
Description
This custom paint job uses gaming PCs of old as inspiration. Its black base has been finished with multicolored accents.
With its futuristic and electronic design, the 'FAMAS | ZX Spectron' skin is a nod to the sci-fi genre. It features a dazzling array of colors against a sleek metallic base, giving it a neon-like glow on the battlefield. The coding and circuit-like patterns etched on the surface make it a popular choice among tech-savvy players. The 'FAMAS | ZX Spectron' has seen notable price hikes during specific seasons, making it crucial for players and traders to keep an eye on market trends and trade accordingly.
It was added to Counter-Strike: Global Offensive on 22 September 2021 as part of the The Operation Riptide Collection with the Operation Riptide update.View Skin Workshop Submission
FAMAS | ZX Spectron skin float value ranges from 0.00 to 1.00 which makes it available in the following wear conditions: Factory New, Minimal Wear, Field-Tested, Well-Worn, Battle-Scarred.
FAMAS | ZX Spectron finish style is Custom Paint Job with finish catalog equal to 1092. It's unique flavor text is: 'Clive would be proud'.
FAMAS | ZX Spectron is a fairly liquid item. It should be easy to sell or exchange it. Traders rates this skin at 4.10/5.0.
Buy on CS.TRADE
Buy or trade for FAMAS | ZX Spectron skins listed below on CS.TRADE trade bot.