FAMAS | Waters of Nephthys
The Anubis Collection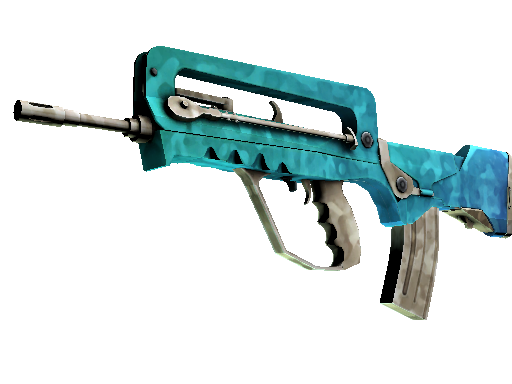 | Condition | Price |
| --- | --- |
| Factory New | $3706.1 |
| Minimal Wear | $2773.2 |
| Field-Tested | $1557.3 |
| Well-Worn | $1267.7 |
| Battle-Scarred | $868.4 |
| Souvenir Factory New | $421.69 |
| Souvenir Minimal Wear | $227.18 |
| Souvenir Field-Tested | $101.14 |
| Souvenir Well-Worn | $88.85 |
| Souvenir Battle-Scarred | $69.8 |
Description
The blues on this custom painted FAMAS shift as lighting conditions change.
The 'FAMAS | Waters of Nephthys' is an exotic skin that draws its inspiration from the ancient Egyptian deity, Nephthys. Known as the goddess of water and rivers, this skin beautifully portrays water-themed patterns over the FAMAS' surface. It has shades of blue and white that simulates glistening water, providing a surreal aesthetic. Equipping this skin not only brings an aura of mythology to your game but also ensures a high resale value considering its rarity and demand among both CS:GO and CS2 players. Knowledge about such unique skins and their potentially high trade value is an essential piece of information for traders.
It was added to Counter-Strike: Global Offensive on 25 April 2023 as part of the Anubis Collection Package with the The Anubis Collection update. This skin was created by Valve.
FAMAS | Waters of Nephthys skin float value ranges from 0.00 to 0.70 which makes it available in the following wear conditions: Factory New, Minimal Wear, Field-Tested, Well-Worn, Battle-Scarred.
FAMAS | Waters of Nephthys finish style is Custom Paint Job with finish catalog equal to 1241. It's unique flavor text is: 'Water always wins'.
FAMAS | Waters of Nephthys is a fairly liquid item. It should be easy to sell or exchange it. Traders rates this skin at 4.65/5.0.
Buy on CS.TRADE
Buy or trade for FAMAS | Waters of Nephthys skins listed below on CS.TRADE trade bot.