FAMAS | Valence
The Wildfire Collection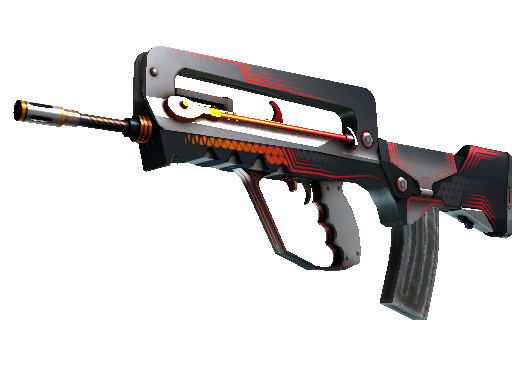 | Condition | Price |
| --- | --- |
| Factory New | $7.75 |
| Minimal Wear | $4.37 |
| Field-Tested | $3.11 |
| Well-Worn | $3.02 |
| Battle-Scarred | $2.59 |
| StatTrak Factory New | $19.53 |
| StatTrak Minimal Wear | $8.71 |
| StatTrak Field-Tested | $5.08 |
| StatTrak Well-Worn | $5.01 |
| StatTrak Battle-Scarred | $4.43 |
Description
It has been custom painted in a modern red and grey design that complements the weapon's form.
The 'FAMAS | Valence' is a weapon skin known for its minimalist design. Its sleek matte black finish marked with electric blue accents provides a subtlety that is highly appreciated by many CS:GO and CS2 players. The skin is named after the scientific term 'valence', referencing the combining power of an element. As such, it's unsurprising that many players find themselves drawn to its design. While simplicity is the key with the 'FAMAS | Valence', it does not diminish this skin's market value. Traders need to be aware of market trends to get the best trade value during peak trading seasons.
It was added to Counter-Strike: Global Offensive on 18 February 2016 as part of the The Wildfire Collection with the Operation Wildfire update.View Skin Workshop Submission
FAMAS | Valence skin float value ranges from 0.00 to 0.80 which makes it available in the following wear conditions: Factory New, Minimal Wear, Field-Tested, Well-Worn, Battle-Scarred.
FAMAS | Valence finish style is Patina with finish catalog equal to 529. It's unique flavor text is: 'We're always stronger together'.
FAMAS | Valence is a fairly liquid item. It should be easy to sell or exchange it. Traders rates this skin at 4.08/5.0.
Buy on CS.TRADE
Buy or trade for FAMAS | Valence skins listed below on CS.TRADE trade bot.