FAMAS | Teardown
The Safehouse Collection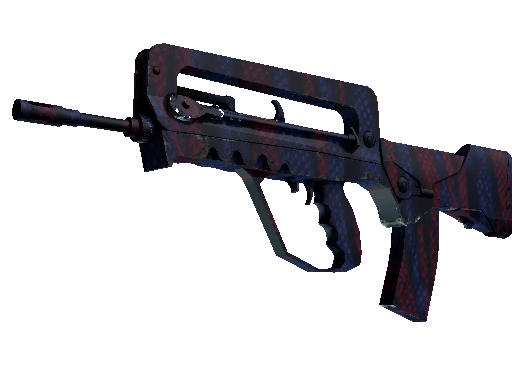 | Condition | Price |
| --- | --- |
| Factory New | $1.55 |
| Minimal Wear | $0.89 |
| Field-Tested | $0.74 |
| Well-Worn | $0.73 |
| Battle-Scarred | $0.65 |
| Souvenir Factory New | $53.16 |
| Souvenir Minimal Wear | $13.08 |
| Souvenir Field-Tested | $8.69 |
| Souvenir Battle-Scarred | $146.2 |
Description
It has been spray-painted freehand using mesh fabric as a stencil.
The 'FAMAS | Teardown' skin is a high-tier item in the CS: GO and CS2 inventory. It has a futuristic design theme, dominated by a blue gradient shaded background accentuated by a complex mechanical pattern. This skin is amongst the most popular choices for the FAMAS rifle due to its striking appearance, making it a must-have for traders and collectors alike. Released on the 19th of November, 2019, it quickly gained popularity among players, especially those looking for an attractive yet functional skin. The 'FAMAS | Teardown' skin is often seen on professional CS: GO tournaments, contributing to its high demand and value on the market. As of the latest market statistics, its highest-recorded market value was $57, making it a profitable investment for traders.
It was added to Counter-Strike: Global Offensive on 27 November 2013 as part of the The Safehouse Collection with the Out with the old, in with the new update. This skin was created by Valve.
FAMAS | Teardown skin float value ranges from 0.00 to 0.60 which makes it available in the following wear conditions: Factory New, Minimal Wear, Field-Tested, Well-Worn, Battle-Scarred.
FAMAS | Teardown finish style is Spray-Paint.
FAMAS | Teardown is a fairly liquid item. It should be easy to sell or exchange it. Traders rates this skin at 4.02/5.0.
Buy on CS.TRADE
Buy or trade for FAMAS | Teardown skins listed below on CS.TRADE trade bot.