FAMAS | Survivor Z
The Shadow Collection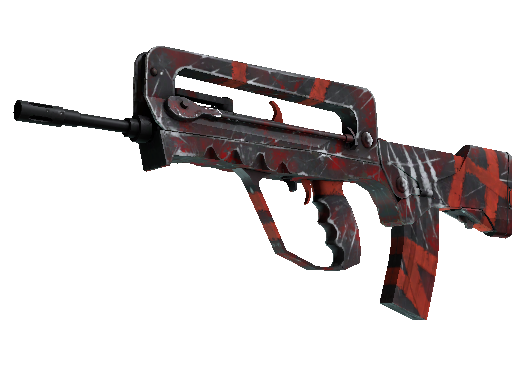 | Condition | Price |
| --- | --- |
| Factory New | $0.8 |
| Minimal Wear | $0.49 |
| Field-Tested | $0.18 |
| Well-Worn | $0.24 |
| Battle-Scarred | $0.13 |
| StatTrak Factory New | $2.49 |
| StatTrak Minimal Wear | $1.56 |
| StatTrak Field-Tested | $0.77 |
| StatTrak Well-Worn | $1.11 |
| StatTrak Battle-Scarred | $0.73 |
Description
It has been stenciled using masking tape then distressed.
The 'FAMAS | Survivor Z' is a highly sought after skin in the Counter-Strike: Global Offensive and Counter-Strike 2 trading scene. It boasts a vibrant colour palette, featuring a post-apocalyptic design that captures the theme of survival in the most chaotic circumstances. Regarded by many CS:GO and CS2 players as a symbol of in-game prowess, the 'FAMAS | Survivor Z' has witnessed a steady price appreciation over the years. Inspired by the resilience of survivors in the face of adversity, this skin often inspires strategies and gameplay emphasizing survival and resourcefulness. The release of this skin resulted in an uptick in tournament activity, as many professional players elected to use it during competitive play. This had an unintended effect of increasing the value of the skin due to increased exposure during these tournaments. The skin has also been at the center of several large trades within the community, further cementing its status.
It was added to Counter-Strike: Global Offensive on 17 September 2015 as part of the The Shadow Collection with the Shadow Boxing update.View Skin Workshop Submission
FAMAS | Survivor Z skin float value ranges from 0.00 to 0.60 which makes it available in the following wear conditions: Factory New, Minimal Wear, Field-Tested, Well-Worn, Battle-Scarred.
FAMAS | Survivor Z finish style is Custom Paint Job with finish catalog equal to 492. It's unique flavor text is: 'What's red and white and fires full auto?'.
FAMAS | Survivor Z is a fairly liquid item. It should be easy to sell or exchange it. Traders rates this skin at 4.01/5.0.
Buy on CS.TRADE
Buy or trade for FAMAS | Survivor Z skins listed below on CS.TRADE trade bot.