FAMAS | Roll Cage
The Gamma 2 Collection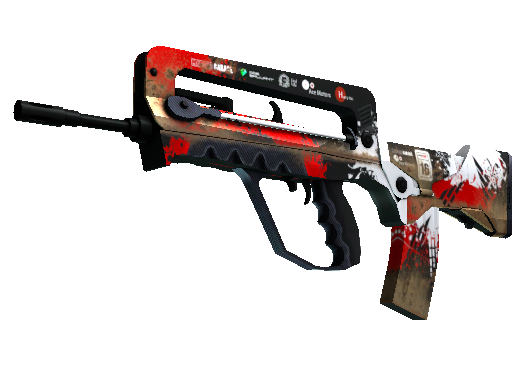 | Condition | Price |
| --- | --- |
| Factory New | $23.77 |
| Minimal Wear | $7.97 |
| Field-Tested | $4.45 |
| Well-Worn | $3.91 |
| Battle-Scarred | $3.92 |
| StatTrak Factory New | $92.2 |
| StatTrak Minimal Wear | $20.36 |
| StatTrak Field-Tested | $11.83 |
| StatTrak Well-Worn | $9.08 |
| StatTrak Battle-Scarred | $7.89 |
Description
It has been given custom decals that resemble a mud-splattered car chassis.
The 'FAMAS | Roll Cage' is a coveted skin in both CS:GO and CS2. Its rugged design and stark color palette lend themselves well to the high-octane environment of these competitive games. This military-grade rifle skin was introduced in the Operation Hydra Collection in May 2017. The 'Roll Cage' has a minimalist design with a metallic finish, giving it a stylish, high-tech look. The skin is named after the roll cage of a car, which is a safety feature designed to protect the car's occupants during a rollover. This echoes the protective role that the FAMAS rifle plays in your arsenal on the battlefield. The skin's price varies depending on its condition, but it is generally considered a mid-range item, making it accessible to many traders and players.
It was added to Counter-Strike: Global Offensive on 19 August 2016 as part of the The Gamma 2 Collection with the Double Exposure update.View Skin Workshop Submission
FAMAS | Roll Cage skin float value ranges from 0.00 to 1.00 which makes it available in the following wear conditions: Factory New, Minimal Wear, Field-Tested, Well-Worn, Battle-Scarred.
FAMAS | Roll Cage finish style is Gunsmith with finish catalog equal to 604. It's unique flavor text is: 'Safety first'.
FAMAS | Roll Cage is a fairly liquid item. It should be easy to sell or exchange it. Traders rates this skin at 4.24/5.0.
Buy on CS.TRADE
Buy or trade for FAMAS | Roll Cage skins listed below on CS.TRADE trade bot.