FAMAS | Rapid Eye Movement
The Dreams & Nightmares Collection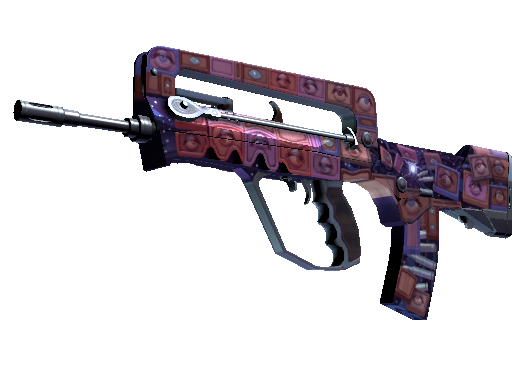 | Condition | Price |
| --- | --- |
| Factory New | $15.3 |
| Minimal Wear | $5.9 |
| Field-Tested | $2.58 |
| Well-Worn | $2.2 |
| Battle-Scarred | $2.13 |
| StatTrak Factory New | $29.02 |
| StatTrak Minimal Wear | $10.29 |
| StatTrak Field-Tested | $4.71 |
| StatTrak Well-Worn | $3.71 |
| StatTrak Battle-Scarred | $3.28 |
Description
It has been custom painted with pink interlocking squares. The squares are painted with lifelike eyes.
The 'FAMAS | Rapid Eye Movement' skin pays homage to the physiological phenomenon of rapid eye movement, which is linked to the dream stage of sleep. As you might expect, the skin is quite dreamy - it features an array of swirling colors and abstract shapes that seem to pulsate and move as you inspect them. This unique skin was introduced in the Prisma Collection in March 2019. The 'Rapid Eye Movement' is a highly collectible skin, and its price can fluctuate significantly depending on its condition and any stickers attached to it. A 'Rapid Eye Movement' with perfect condition and rare stickers can fetch a high price on the market.
It was added to Counter-Strike: Global Offensive on 21 January 2022 as part of the The Dreams & Nightmares Collection with the Dreams & Nightmares update.View Skin Workshop Submission
FAMAS | Rapid Eye Movement skin float value ranges from 0.00 to 1.00 which makes it available in the following wear conditions: Factory New, Minimal Wear, Field-Tested, Well-Worn, Battle-Scarred.
FAMAS | Rapid Eye Movement finish style is Gunsmith with finish catalog equal to 1127. It's unique flavor text is: 'Frantic are the eyes of the dreamer'.
FAMAS | Rapid Eye Movement is a fairly liquid item. It should be easy to sell or exchange it. Traders rates this skin at 4.15/5.0.
Buy on CS.TRADE
Buy or trade for FAMAS | Rapid Eye Movement skins listed below on CS.TRADE trade bot.