FAMAS | Prime Conspiracy
The Control Collection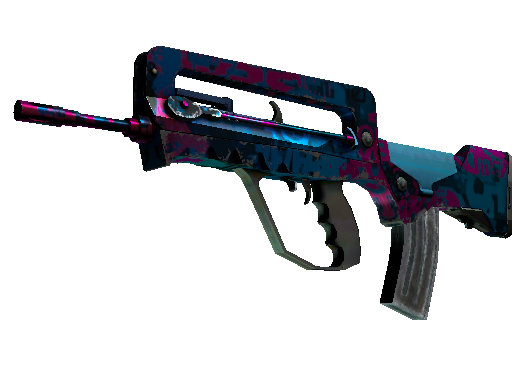 | Condition | Price |
| --- | --- |
| Factory New | $111.48 |
| Minimal Wear | $105.03 |
| Field-Tested | $105.71 |
| Well-Worn | $67.8 |
| Battle-Scarred | $85.76 |
Description
A multicolored pattern of randomized numbers has been applied.
The 'FAMAS | Prime Conspiracy' is a restricted rifle skin released as a part of the Winter Offensive Weapon Case in 2020. It showcases a grungy, distressed look with abstract white patterns over a rusted, red metal base. This skin is available in conditions from well-worn to factory new. The price typically fluctuates between $2.94 and $6.50 due to its aesthetic appeal and rarity. This skin is a favorite amongst players and collectors alike, due to its unique look and the prestige associated with its case. Notably, professional player Jarosław 'pashaBiceps' Jarząbkowski was seen using the Prime Conspiracy during the IEM Katowice 2020 CS:GO tournament.
It was added to Counter-Strike: Global Offensive on 3 December 2020 as part of the The Control Collection with the Operation Broken Fang update.
FAMAS | Prime Conspiracy skin float value ranges from 0.00 to 0.55 which makes it available in the following wear conditions: Factory New, Minimal Wear, Field-Tested, Well-Worn, Battle-Scarred.
FAMAS | Prime Conspiracy finish style is Anodized Multicolored with finish catalog equal to 999. It's unique flavor text is: 'Numbers don't lie, but I do'.
FAMAS | Prime Conspiracy is a fairly liquid item. It should be easy to sell or exchange it. Traders rates this skin at 4.91/5.0.
Buy on CS.TRADE
Buy or trade for FAMAS | Prime Conspiracy skins listed below on CS.TRADE trade bot.