FAMAS | Neural Net
The Falchion Collection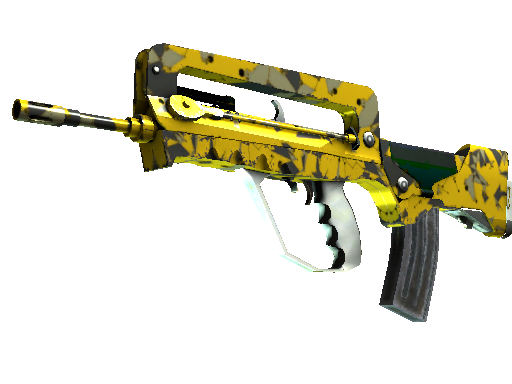 | Condition | Price |
| --- | --- |
| Factory New | $2.7 |
| Minimal Wear | $1.68 |
| Field-Tested | $1.1 |
| Well-Worn | $1.09 |
| Battle-Scarred | $1.06 |
| StatTrak Factory New | $7.78 |
| StatTrak Minimal Wear | $4.28 |
| StatTrak Field-Tested | $2.47 |
| StatTrak Well-Worn | $2.48 |
| StatTrak Battle-Scarred | $2.42 |
Description
It has been painted with a translucent hydrographic over a metallic base coat.
The 'FAMAS | Neural Net' skin is a vibrant, color-saturated addition to any CS:GO player's arsenal. It's a mil-spec grade skin released in the Shadow web case in 2015. The skin features a dynamic, futuristic design reminiscent of a neural network, with electric blue lines tracing paths across a dark, metallic surface. It's popularity amongst players is due to its aesthetic appeal and affordable price range. This skin offers a range from factory new to battle scarred conditions, affecting the clarity and vibrancy of the design. The average price ranges from $0.11 to $0.36 depending on the condition of the skin. Additionally, it's market demand has remained fairly consistent over the years, making it a reliable choice for traders. The FAMAS | Neural Net also holds sentimental value as it represents a historic period in CS:GO's development.
It was added to Counter-Strike: Global Offensive on 26 May 2015 as part of the The Falchion Collection with the Operation Bloodhound update.View Skin Workshop Submission
FAMAS | Neural Net skin float value ranges from 0.00 to 0.60 which makes it available in the following wear conditions: Factory New, Minimal Wear, Field-Tested, Well-Worn, Battle-Scarred.
FAMAS | Neural Net finish style is Anodized Multicolored with finish catalog equal to 477. It's unique flavor text is: 'I know. But it was the right thing to do... - A Family Affair Part 2'.
FAMAS | Neural Net is a fairly liquid item. It should be easy to sell or exchange it. Traders rates this skin at 4.03/5.0.
Buy on CS.TRADE
Buy or trade for FAMAS | Neural Net skins listed below on CS.TRADE trade bot.