FAMAS | Macabre
The Operation Hydra Collection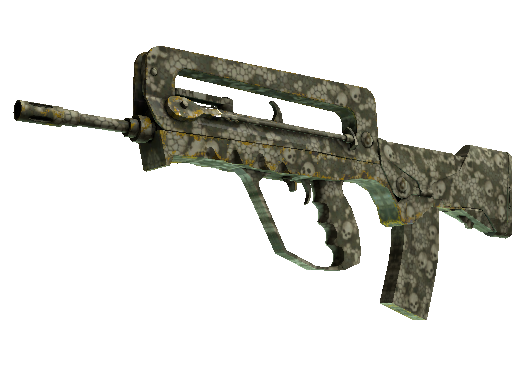 | Condition | Price |
| --- | --- |
| Factory New | $6.33 |
| Minimal Wear | $5.42 |
| Field-Tested | $5.34 |
| Well-Worn | $5.58 |
| Battle-Scarred | $7.67 |
| StatTrak Factory New | $7.97 |
| StatTrak Minimal Wear | $4.98 |
| StatTrak Field-Tested | $5.41 |
| StatTrak Well-Worn | $3.49 |
| StatTrak Battle-Scarred | $4.91 |
Description
It has been spray painted with a green design over a yellow undercoat.
The 'FAMAS | Macabre' stands out for its haunting and dark design. Featuring skull imagery on a black and grey palette, it appeals to players who enjoy a touch of the gothic in their gameplay. In the trading market, these skins are considered a valuable asset, especially during Halloween or similar themed events where their demand sees a significant spike. They are usually available in various conditions and the 'Factory New' ones fetch the highest prices in the market. The 'FAMAS | Macabre' skin encapsulates the darker side of the CS:GO and CS2 universe, making it a skin of choice for many players.
It was added to Counter-Strike: Global Offensive on 24 May 2017 as part of the The Operation Hydra Collection with the Operation Hydra update.View Skin Workshop Submission
FAMAS | Macabre skin float value ranges from 0.00 to 0.60 which makes it available in the following wear conditions: Factory New, Minimal Wear, Field-Tested, Well-Worn, Battle-Scarred.
FAMAS | Macabre finish style is Spray-Paint with finish catalog equal to 659. It's unique flavor text is: 'A gruesome discovery'.
FAMAS | Macabre is an item of average liquidity. It may take some time to sell or trade it. Traders rates this skin at 3.08/5.0.
Buy on CS.TRADE
Buy or trade for FAMAS | Macabre skins listed below on CS.TRADE trade bot.